Winnie Madikizela-Mandela, "Mother of the Nation," dies at 81
HERB BOYD, Special to the AmNews and NAYABA ARINDE, Amsterdam News Editor | 4/5/2018, 8:49 a.m.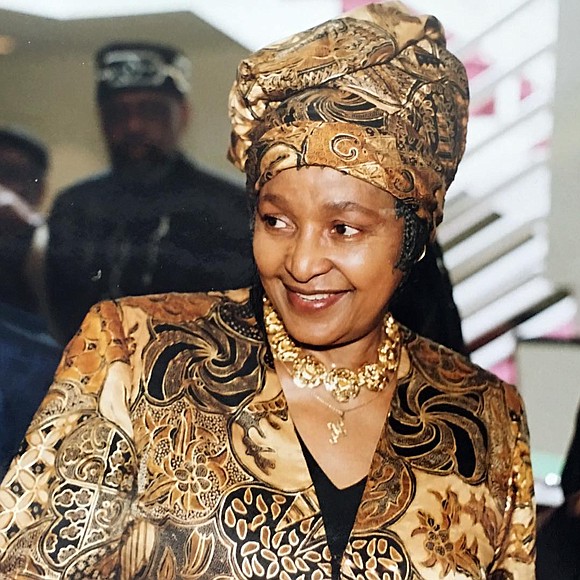 "I am a living symbol of whatever is happening in my country," Winnie Madikizela-Mandela wrote in "Part of My Soul Went With Him." That once vibrant, resilient symbol, sometimes called the "Mother of the Nation" in South Africa, died Monday, according to her personal assistant Zodwa Zwane. She was 81.
It was reported that Madikizela-Mandela had been battling illness, and Zwane said more details would be released later. She had been in and out of Netcare Milpark Hospital in Johannesburg for several years for treatment of a kidney infection, said her spokesman, Victor Dlamini.
"Although we are gutted by her passing, we are grateful for the gift of her life," was a message from her family.
This "Mother of the Nation," the family said "succumbed peacefully in the early hours of Monday afternoon surrounded by her family and loved ones."
Calling her a "champion of justice and equality" and a "voice for the voiceless," President Cyril Ramaphosa announced that Madikizela-Mandela will be remembered at an official memorial service April 11, and honored by a state funeral April 14, 2018.
No gift from Madikizela-Mandela was as significant as her unflinching resolve against the apartheid system that stifled so much of Black hope and aspirations in South Africa.
She was the epitome of a no-nonsense, fierce and self-determined African woman. She remains a heroine to millions. Rep. Maxine Waters said in an online statement, "I mourn the loss of my dear friend & one of the greatest leaders and activists in the world: Winnie Mandela. I worked w/ her on the release of N. Mandela & to end apartheid in South Africa. We should all pay tribute to Winnie's persistence in the face of injustice & racism."
"We African women love the great Winnie Madikizela-Mandela," said activist Lady Agbiomon Ogbeiwi. "We simply sympathize with her for what she has suffered throughout these years." The former Nigerian broadcaster and current cultural activist added, "She kept Nelson's name alive in the 27 years he was in prison, and she kept the movement vibrant throughout that whole time, even though he abandoned her, remarried and did not actively support her through all the trials and tribulations those people put her through. We should remember her for the good work she did. She was always there. She was a fighter and she never quit. Everything she believed in for the freedom of South Africa, she continued till her death. They persecuted her and yet she persevered greatly."
"It is with great sadness ... that we heard the news that Winnie Madikizela-Mandela, the mother and the heartbeat of the revolution, had passed," said Minister Louis Farrakhan. "When I visited South Africa, I said to myself ... that South Africa is not yet free. … Mother Winnie Mandela in our meeting said to me that the enemy's promises of tens of thousands of homes and electricity were never realized. A political compromise for the sake of nonviolence was made so we would gain political power, a national anthem, a flag and a place at the United Nations. But, the yet unrealized dream of the ownership of the wealth of South Africa returning to the Blacks remains. Mother Winnie Mandela still was the heartbeat of the revolution. And today under a new president with new vision, the compromise has ended and the struggle begins anew and again. ... The heartbeat of the revolution will continue until every square inch of South Africa is liberated and once again in the hands of the original owners of that land. Mother Winnie Mandela and the struggle that her husband and she waged [will] always be remembered. ... She lives and the struggle continues until total victory."