Finally, an inspiring female sports film
Lois Elfman | 4/5/2018, 4:05 p.m.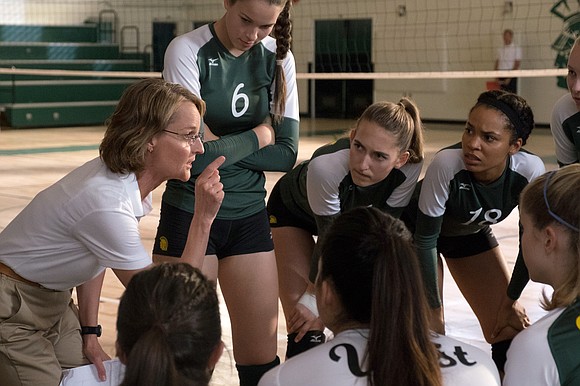 Sports have been the central theme in many beloved films. Men's football, baseball, basketball and track have all served as the centerpiece in emotionally charged dramas and the occasional comedy. But with one or two notable exceptions, sports films rarely focus on girls or women— at least not in team sports. That will change when "The Miracle Season" opens this week.
The film tells the true story of how a town came together around a girls' high school volleyball team after the tragic death of its star, Caroline "Line" Found, before her senior season. Defending Iowa state champions, Found's best friend motivated her teammates and the coach to go for a repeat in Found's memory.
Thankfully, girls' high school volleyball is so popular in Iowa it is televised. So the film's volleyball coordinator, Mark Ellis, had actual footage of the City West High School Trojans and could study how Found and her teammates interacted and what the actual matches looked like. Before auditions, Ellis attended the Iowa state championships.
"This is a girl-power movie," said Ellis, who has served as sports coordinator on films such as the "Semi-Pro," "Miracle" and "We Are Marshall." "It's very difficult to fool the audience if your actors can't pull off the action."
During the casting process, he surveyed the athletic abilities of the actresses. Once cast, they worked with U.S. Olympian Kim Glass. Finally, there was a two-week training camp.
The movie was shot in Vancouver, Canada. Hundreds of Canadian collegiate players tried out to be in the volleyball sequences. The actresses and players learned about 70 to 80 choreographed plays, with particular attention to detail put on the final state championship game.
"We all watched the final game," said actress Nesta Cooper, who needed to learn the nuances of her position, middle blocker. "The real volleyball players were the most incredible teachers and they were so patient with us."
Cooper, who has watched numerous sports-themed films, said telling this moving story about a girls' team was quite incredible.
"It was something we talked about," she said. "We really wanted to make sure that we were going to make a sports film, not a girls' film. We wanted to focus on the athleticism."
Cooper was born and raised in Canada, so learning that in the U.S. sports can unite a community was a revelation.
"I was surprised and excited about the affect these girls had on the community and what it did to the town when they eventually did win," said Cooper.