Athletes provide their voice and money to Sacramento shooting
Jaime C. Harris | 4/5/2018, 3:56 p.m.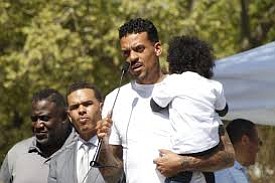 By any rational application of the law, the shooting of Stephon Clark was a homicide. The 22-year-old father of two sons was shot eight times, at least six of the bullets striking him in the back, March 18 in his grandmother's backyard in Sacramento, the capital of California.
 Twenty shots were fired by two police officers who were responding to a complaint that cars were being vandalized in Clark's south Sacramento neighborhood. "The entire interaction, he had his back to the officers," according to Dr. Bennet Omalu, a private medical examiner hired by Clark's family. Omalu is widely credited with discovering chronic traumatic encephalopathy (CTE), a degenerative brain disease found in athletes and others with a history of repetitive brain trauma. He was portrayed by actor Will Smith in the 2015 film "Concussion."
"He bled massively," Omalu said of Clark. It was determined the young man was unarmed and holding a cellphone when he was shot. Days after Clark's death, NBA All-Star center DeMarcus Cousins, who played for the Sacramento Kings from his rookie season in 2010 until he was traded to the New Orleans Pelicans last season, offered to pay for Clark's funeral.
Cousins, who is out with an Achilles injury, has previously displayed sympathy and benevolence for the murder of a young black man. In 2015, he paid for the funeral of 17-year-old high school football player Jaulon "J.J." Clavo, who was shot and killed in Sacramento while riding in a car with four of his teammates. They were heading back to their school after picking up food. A 16-year-old was charged in the shooting.
Former NBA player Matt Barnes, who spent his formative years as a high school basketball and football star in the Sacramento area, has been highly visible and outspoken in addressing Clark's shooting. He was part of organizing a rally in the city this past Saturday spearheaded by Black Lives Matter and has launched a scholarship fund for Clark's two sons.
Barnes, who won a title with the Golden State Warriors last June and retired in December, has called for more effective relations between the police and residents of the inner-city communities they are charged with safeguarding. "We fear what we don't know. We don't know these cops, so we fear them. They don't know us, so they fear us," Barnes said.
"When you get out and know someone on a first-name basis, when you are called to the situation, next time you may be able to defuse the situation." 
A multitude of athletes come from urban communities in which police shootings and brutality occur, most of the victims being men of color. So their visceral connections to the far too many tragedies are palpable. Barnes echoed the disturbing truth repeatedly spoken by countless voices.
"This isn't a Sacramento problem; this is a nationwide problem."