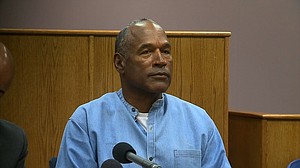 (CNN) -- The last leg of O.J. Simpson's odyssey to freedom will cut through one of the grayest, most desolate stretches of America. Signposts suggest it will end at one of the country's most affluent green enclaves.
As early as Sunday, the former professional football player who fell from grace will go over the terms and conditions of his parole with officials.
Simpson will be driven south more than 400 miles from the Lovelock Correctional Center in Nevada through a vast stretch of relative emptiness to the High Desert Prison 45 minutes northwest of Las Vegas, where he's expected to be released -- nine years after he entered prison.
Don't expect the 70-year-old parolee to become a recluse.
"He's not going to hide," said longtime friend Tom Scotto, who attended Simpson's parole hearing this summer. Simpson served nine years of a 33-year sentence for kidnapping and armed robbery in connection with a raid on memorabilia dealers in a Las Vegas hotel room.
Simpson -- who wants to move to Florida -- will for now live in a gated residence with unspecified friends in a wealthy Las Vegas suburb, several associates told CNN. He'll have to meet a number of conditions set by the Nevada parole board.
"He's going to focus on kids, friends, his family and golf," Scotto said. "Maybe not the first day or second, but he is going to go out."
Simpson's youngest children, Sydney and Justin, live in the Tampa Bay area. Their mother was Nicole Brown Simpson, his former wife in whose death he was acquitted more than two decades ago. Sources say daughter Arnelle lives in the Los Angeles area and son Jason calls Georgia home.
During his years in prison, Simpson passed the time playing fantasy football, coaching softball, and, at least in the beginning, eating lots of junk food, according to guards and an inmate.
Now, the man who said at his parole hearing that "I've done my time," apparently has new priorities.
"He's going to want to golf and there's no shortage of courses," said one Simpson insider. "He's going to want privacy, there's none in prison. He's going to want to sleep in his own bed. He's going to want to ..." the source chuckled. "Well, he hasn't done it in nine years."
Rules restrict alcohol intake, other behavior
It won't be all fun and games: Simpson won't have the liberty to consume alcohol in large quantities or hang out with ex-convicts.
The Nevada Board of Parole rules bluntly state: "You shall not associate with convicted felons, persons who are engaged in criminal activity, or other persons with who your supervising officer instructs you not to associate."
The rules forbid parolees from possessing guns and drugs in almost all cases. Alcohol abuse can get a parolee sent back to prison.
"You are permitted to consume alcoholic beverages but not to excess," the conditions of parole supervision read. "...you shall submit to a medically recognized test for blood/breath content. Test results of .08 alcohol or higher shall be sufficient proof of excess."