Bernie Casey, gifted athlete, artist and actor
Herb Boyd | 9/28/2017, 12:54 p.m.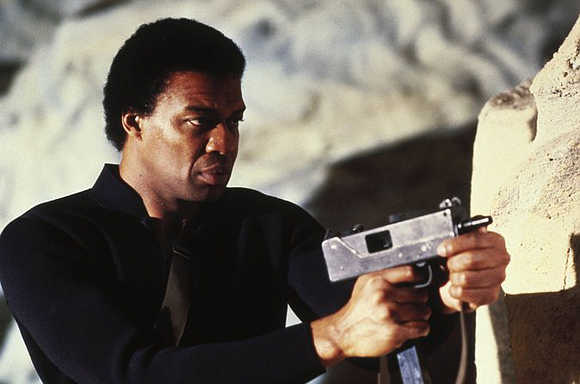 Within a few days of learning of Bernie Casey's death, I had read an article about polymaths, those individuals who are proficient in several endeavors. Casey's varied career and exciting lifetime mark him as a candidate for this rare realm. He was a superb athlete, excelling in track and football, a more than adequate painter and actor. It was as a professional football player that he was best known before appearing in a number of films, including his role as a CIA agent in the James Bond film, "Never Say Never Again."
Bernard Terry Casey was born June 8, 1939, in Wyco, W. Va. His father was a coal miner. A physically impressive man at 6-foot-4, he was a star player on the football team at Bowling Green State University, where he was also a member of the track team, finishing sixth in the high hurdles at the Olympic trials in 1960, just short of making the team.
He helped Bowling Green to earn recognition as the small college champion in 1959, all the while working on a bachelor's degree, and the master's degree in fine arts.
His talent on the gridiron attracted the attention of several Canadian and NFL teams and he was drafted in 1961 by the San Francisco 49ers and the New York Titans (later the Jets), but his choice was San Francisco, which placed him closer to a desired thriving community of artists.
In 1967, he was traded to the Atlanta Falcons, who sent him on to the Los Angeles Rams. During eight seasons in the NFL he was a model of consistency, catching at least 50 passes per season five times and finishing in the top 10 among NFL receivers four times. As a receiver on the Falcons, Casey was chosen for the Pro Bowl, and later that year as a receiver for the Rams, he caught the winning touchdown pass with 34 seconds remaining in the game, leading his team to victory over the Green Bay Packers. In the conference championship game against the Packers, Casey again starred, scoring the only touchdown for the Rams.
When he wasn't latching on to the pigskin, he had a paint brush in his hands, determined to perfect his love for painting, something he had been doing since high school. He told a reporter that he liked to see himself as "an artist who plays football, not as a ballplayer who paints."
He was able to devote more time to painting once he retired from football in 1968, but almost immediately after removing the shoulder pads and hanging up the cleats, he was soon immersed in Hollywood. In fact, his film career followed practically on the heels of the football immortal Jim Brown, and Casey's first film role was with Brown in "Tick…Tick…Tick," a dramatic thriller.
Other film roles included his portrayal of J.C. Caroline in the television movie "Brian's Song," about Caroline's dying football teammate. After his stint with Sean Connery in the James Bond film, he was featured in Keenan Wayans' "I'm Gonna Git You Sucka," a parody of the Blaxploitation genre that reunited him with Brown.