Avery always brings the Sunshine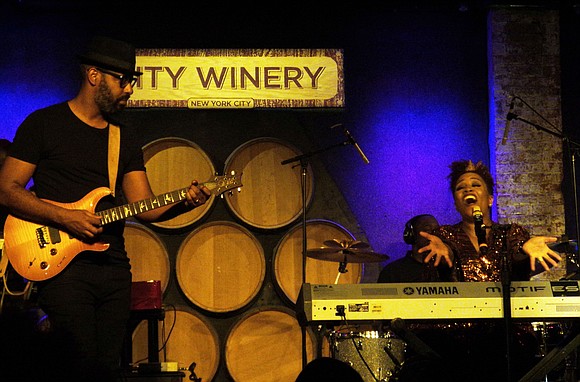 It can be said that true art has the ability to activate the senses. For little Denise White, Black music served in that capacity. Growing up in Chester, Pa., a small city on the outskirts of Philadelphia, she can, years later, vividly describe the scents, sights and tastes she experienced while WDAS provided the soundscapes. The songs emanating over the airwave also inspired the child, as she had hopes that one day it might be her voice coming through that box. Study and faith led her on a path where she would eventually find her own voice and, under the guise of Avery*Sunshine, use her talents to inspire others. "My greatest wish is for our music to empower and encourage, in some way, everyone who hears it. That is why we do this," shared the radiant singer. Gospel, jazz, soul, R&B, funk and house all have components to her musical being.
Dana Johnson, Avery*Sunshine's musical partner, himself a gifted producer, writer and musician, offered his affinity for Black music as well by saying simply, "Black music is not what we do, it's who I am. It's who we are!" Johnson can comfortably refer to himself and Avery as a collective because they're bonded more than musically. They truly are the muses to their respective arts as they're now a married couple. White explained, "When we decided to get married and Dana proposed to me, my prayer to God was to give me until 2064 with this man! 'I know I told you 3 million times that I would never ever, ever get married again, but it is clear that you have sent me my completion and my love. I am grateful and I want to be with him as long as I can but if all I can get is to 2064 then I'll be fine. I'll be 89 and he will be 91 and all we will be able to do is eat ice cream together!'"
Here are some highlights of a conservation I had with the pair earlier this year as they were promoting the yet to be released new album, "Twenty Sixty Four." At the time, I didn't want to be a prisoner of the moment and jump out and say that it would definitely be the Female R&B Album of the year come award season, but I was, however, comfortable in saying that there was a high bar that had been set. Coming off her independently released debut project, "AverySunshine," which spawned a legitimate hit ("Ugly Part of Me"), and her critically heralded 2015 Shanachie release "The SunRoom," featuring her No. 1 hit single "Call My Name," she has now moved forward. She had expectations along with the delicate balance of maintaining her personal integrity. "Twenty Sixty Four" marks the first time that she expanded her creative team, and the numerous collaborations paid dividends. "This is something that I have always wanted to do," she stated. "I really wanted to have live strings on the record, so we got to do that this time. We collaborated with Grammy award winning pianist and arranger, Ruslan Sirota. We also have a couple of writing collaborations with Eric Roberson, Carvin Haggins and Jamie Portee." "Twenty Sixty Four" also features a few guest appearances, including Mr. Talkbox (Bruno Mars, NSYNC, Erica Campbell), Frank McComb (Prince, Branford Marsalis, Lalah Hathaway) and recent Grammy winning trumpeter Keyon Harrold (Maxwell, Jay-Z, Beyoncé, Common, Gregory Porter). "These are some big milestones that I am really excited about," shared White.