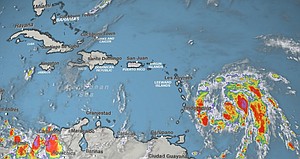 (CNN) -- Hurricane Maria, making its first landfall as a Category 5 storm, has blasted Dominica with "widespread devastation," according to the prime minister of the Caribbean island nation.
With the US territory of Puerto Rico and the US and British Virgin Islands now in its path, Maria's powerful punch diminished slightly to Category 4 after it hit Dominica Monday night, according to the National Hurricane Center (NHC).
But the NHC said Tuesday morning after an Air Force "Hurricane Hunter" aircraft flew into the storm, Maria had reintensified to Category 5 status, with estimated maximum sustained winds of 160 mph. It was moving west-northwest at 9 mph, with that track expected to continue through Wednesday.
"On the forecast track, the eye of Maria will move over the northeastern Caribbean Sea today, and approach the Virgin Islands and Puerto Rico tonight and Wednesday," the NHC said in its overnight updates, adding that it would be "an extremely dangerous category 4 or 5 hurricane" as it bears down on the Virgin Islands and Puerto Rico.
Hurricane-force winds extended up to 30 miles (45 km) outward from the center of the storm, and tropical-storm-force winds extended up to 125 miles (205 km) from the center, the NHC said.
On Dominica, authorities were waiting for daylight to assess the damages from Hurricane Maria to the island nation of more than 73,000 people.
"Initial reports are of widespread devastation," Dominica Prime Minister Roosevelt Skerrit said on Facebook. "So far we have lost all what money can buy and replace. My greatest fear for the morning is that we will wake to news of serious physical injury and possible deaths as a result of likely landslides triggered by persistent rains."
The former French and British colony -- an independent nation since 1978 -- has an economy heavily dependent on tourism and agriculture, industries that would be extremely vulnerable to the ravages of a hurricane.
Hurricane Maria is the strongest storm on record to make landfall in Dominica, and it would be the first Category 4 or greater hurricane to hit Puerto Rico in 85 years.
Puerto Rico's governor, Ricardo Rosselló, has declared a state of emergency ahead of that landfall, which will likely happen Wednesday.
A hurricane warning from the NHC remains in effect for Guadeloupe, Dominica, St. Kitts and Nevis, Montserrat, the US and British Virgin Islands, Puerto Rico, Culebra, and Vieques.
The regional government of Guadeloupe tweeted early Tuesday to its residents: "Don't go out under any circumstances."
US President Donald Trump issued an emergency declaration for Puerto Rico for federal assistance to augment the territory's storm-response initiatives.
The ferocity of Maria bears striking similarities to Hurricane Andrew, the Category 5 hurricane that hit the Bahamas and Florida in 1992, says CNN meterologist Pedram Javaheri. Both storms are compact, and Maria's wind speed comes close to that of Hurricane Andrew -- 165 mph -- when it hit southern Florida.
Track the storm here
Puerto Rico on alert
Puerto Rico sheltered many of the evacuees who fled Hurricane Irma's wrath in other Caribbean islands. Now those evacuees and native Puerto Ricans are bracing for another powerful hurricane.