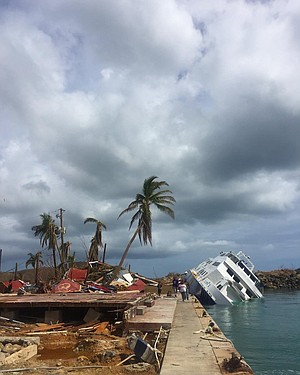 They were able to get to Puerto Rico, but hope to return to the island.
"St. Maarten will always be home. This is where I'm from. But it won't be the same," Vilier said. "It just takes a couple hours, from paradise to hell."
We had to 'figure out a way to survive'
Kaiann Macleay and her husband had been at a St. Martin resort when Hurricane Irma struck. After the storm subsided, they went outside and saw the debris from homes, resorts and businesses.
She said that some people were snatching up anything they could get their hands on, from necessities like gas to luxury goods.
Her husband, Lachlan Macleay and other guests formed a volunteer patrol armed with machetes and kitchen knives, and they took turns keeping night watch over the property.
"It just felt like you had to call yourself to action and do it because no one was gonna protect us other than ourselves," he told CNN's Erin Burnett. "We had to rise to the occasion and band together."
It quickly became apparent "assistance was not arriving," his wife added. "We had to prepare to take care of ourselves and figure out a way to survive."
They were later able to get to Puerto Rico.
In the time of scarcity, community supports one another
While the devastation brought fear and chaos, it also brought a sense of community among survivors who shared what resources they had left.
One woman who lost her Philipsburg, St. Maarten, home, said the neighbors were helping her.
"We don't have food. We are getting through because the neighbor there, they cook. You know, everybody shares. Everybody comes together and they help us," one woman told TeleCuracao.
In St. Thomas, which is part of the US Virgin Islands, Julien Alleyne survived Irma by hiding in his bathtub for 18 hours. He said he was fortunate not to run out of food, thanks to the kindness of others.
"We are lucky to have friends and family nearby that had plenty of food and water. I'm thinking about the people who can't rely on the people around them, getting supplies. It's hard. There's lines everywhere, gas stations, grocery stores," he told CNN, after evacuating to St. Croix.
"I want to bring awareness to my islands. We're in a desperate situation here."