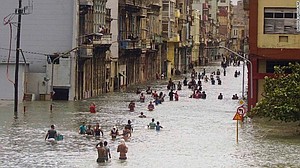 (CNN) -- Hurricane Irma was a Category 5 storm when it crashed through the Caribbean, leaving at least 36 people dead in its wake before moving on to Florida.
The storm carved out a path of devastation, leaving a trail of extensive damage in small islands like St. Martin/St. Maarten, the twin-island state of Antigua and Barbuda, the British territories of Anguilla and the Turks and Caicos Islands, the British Virgin Islands, and the US Virgin Islands.
Many islands are still assessing the damage, as they begin to pick up the pieces.
Here's a look at just a few stories from the hardest hit areas, where residents are still reeling.
Antigua and Barbuda
Elvis Burton, 57, was born in Barbuda but lived most of his life in the Bronx, New York. In 2005 he returned home. Irma was his first major storm.
Burton and most of the island's 1,800 residents were evacuated on Friday to Antigua. Burton has not been able to return home.
Looking at pictures from the island, he said, "I think it's going to take a long time for Barbuda to get back on its foot. Everything is completely destroyed."
"Most of the people left with just the clothes on their backs."
"I want to get back because I want to start to rebuild. It's sinking in, you're feeling the impact of the hurricane. After a day or two you realize you have lost everything."
Burton is staying with a friend in Antigua, while many others are in shelters on the island.
"The people of Antigua have done so much to make us feel comfortable, but I just want to get home. It is human nature."
St. Martin/St. Maarten
"We survived, we survived," Stacy-Ann Taylor said in a Facebook Live video on Wednesday, after Hurricane Irma hit the Dutch Caribbean island of St. Maarten, where the storm left at least four people dead and caused widespread devastation.
The storm ravaged the island on Wednesday, and Taylor, who lives with her husband and two children in the capital, Philipsburg, told CNN that people there were still in dire need of security and supplies.
"We are in great need of supplies, food and water, and more security," Taylor told CNN in a Facebook message, adding that she was fearful of looters and had heard stories of people being held at gunpoint in their homes.
"It is so freaking scary. Right now, I wish my children could leave so they would not have to experience -- and also my husband and I can focus on each other. It's not easy here," she said, adding that the Dutch marines and police force were doing their best to cope with the situation.
Anguilla
Lloyd Gumbs was born in Anguilla, where he has lived for most of his life.
"We were prepared for the hurricane," he said, "but this wasn't a normal hurricane."
The storm left at least one person dead on the island.
Gumbs says he was on Anguilla, a British territory, in 1995 when Hurricane Luis hit. "Luis was a Cat 4 storm, and lasted for something like 36 hours, Irma last a shorter time but it caused more damage."