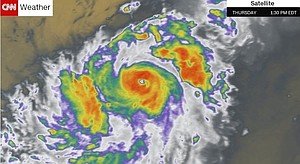 (CNN) -- Hurricane Irma battered northern Cuba then made a turn for Florida, where it's expected to hammer the state with whistling winds, heavy rain and surging waves.
Florida authorities went door-to-door warning residents of the massive hurricane, sending crowds jamming highways as they fled north.
The Category 4 storm had maximum sustained winds of 155 mph Saturday morning. Before it was slightly downgraded, it made landfall on Cuba's Camaguey Archipelago as a Category 5 hurricane, the National Hurricane Center said Friday night.
Irma hit Ciego de Avila province with gusts so strong, it destroyed the instrument used to measure wind, Cuba's meteorological agency reported.
Cuba recorded waves of up to 23 feet high, and as the storm moves westward, bigger ones are a possibility.
Millions urged to evacuate
Irma edged closer to South Florida after killing 24 people in the Caribbean this week, and strengthened to a Category 5 storm in Cuba. Hours earlier Friday, it was a Category 4.
Irma is expected to be near the Florida Keys and South Florida by early Sunday, and many residents there have moved inland. About 5.6 million people in the state have been ordered to evacuate, Gov. Rick Scott said.
Florida officials sent dire warnings imploring residents on the path of the storm to evacuate.
"If you have been ordered to evacuate, leave now. Not tonight, not in an hour, now," Scott said Friday night. Staying in homes could subject residents to storm surge as high as 12 feet, the governor added.
The National Weather Service also urged residents to evacuate.
"This is as real as it gets, nowhere in the Florida Keys will be safe ... you still have time to evacuate," it tweeted.
Here are the latest developments
-- Irma is now a powerful Category 4 hurricane as it batters Cuba and makes a turn for the Florida Keys.
-- Irma is moving toward the west-northwest at 12 mph.
-- By Saturday morning, its center was 245 miles southeast of Miami.
-- Irma's center will move near the north coast of Cuba on Saturday, near the Florida Keys on Sunday morning, and near the southwest coast of Florida on Sunday afternoon, the National Hurricane Center said.
-- The hurricane warning and the storm surge warning are extended northward along the Florida west coast.
-- Tampa International Airport will cease commercial airline operations at 8 p.m. Saturday and Jacksonville International Airport will cease commercial flights at 7 p.m. Saturday.
-- Before Irma hit Cuba, it had slammed the Turks and Caicos, and southeastern Bahamas.
-- The Red Cross said as many as 26 million people could be exposed to destructive winds and torrential rain just in the Dominican Republic, Haiti and Cuba. It said 1.2 million people have been battered by the storm.
-- At its peak, a then-Category 5 Irma sustained maximum wind speeds of at least 185 mph for longer (37 hours) than any storm on record.
-- Of the 24 deaths blamed on Irma, nine were in unspecified French territories, one on Barbuda, one at the British overseas territory of Anguilla, two in Dutch-administered St. Maarten, four in the British Virgin Islands, four on the US Virgin Islands, and three in Puerto Rico.