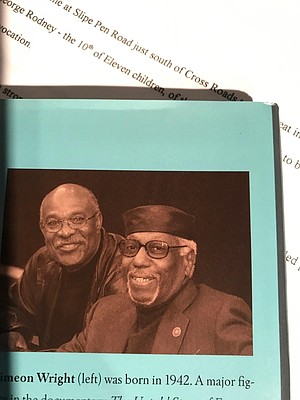 "I was lying there, frozen stiff and not moving, when my mother rushed into the room," Simeon Wright recounted of the morning when his cousin Emmett Till was abducted by two white men. "She began pleading with the men not to take Bobo [Till]." But as the world would soon know, her pleas were in vain, and later Emmett's body was found in the Tallahatchie River.
This incident was just one of several chilling moments Wright wrote about in his memoir, "Simeon's Story—An Eyewitness Account of the Kidnapping of Emmett Till" (Lawrence Hill Books, 2010), and although I have written hundreds of obituaries, there's no way I can step back and write objectively about someone I worked closely with on his book.
A flood of wonderful memories washed over me Monday when Keith Beauchamp called to inform me of Wright's passing. According to his wife, Annie, he died of bone cancer at his home in Countryside, Ill. He was 74. "Simeon was very private about his illness," said Beauchamp, who was responsible for bringing Wright into my life. And that privacy was something I could attest to during our many hours completing his book.
As I related in the book's foreword, I met Wright in 2002, when Beauchamp was traveling around the country previewing his documentary, "The Untold Story of Emmett Louis Till." Only after Beauchamp's patient pursuit did Wright agree to participate in his project, and Wright expressed a similar reluctance in publishing his personal account of those painful days.
Among the things troubling Wright were the many lies, distortions and inaccuracies about his cousin's death, and for these reasons he shied away from reporters and filmmakers who sought his involvement and to get him to tell his version of what happened in Money, Miss. in 1955.
I was stunned and excited some months later after I had proposed working with him that he called and said he was ready to tell his story. Later, I learned it was his satisfaction with Beauchamp's documentary and the gentle urging of his wife that convinced him to write his book.
Wright was a consummate storyteller, and for the most part, except for some editorial assistance, he could have written the book without me, but I am forever grateful for the opportunity to be by his side as he took me back to that tragic and historic incident many feel ignited the Civil Rights Movement.
Chapter by chapter from his early years in Mississippi to those days in Argo, Ill., which became his home after the family left the South, Wright's story is a gripping odyssey, and we decided to let it unfold through his childhood reflections. He was 12 when Till, then 14, came to visit in Money.
After two or three chapters about Jim Crow in the South and his family—his mother Elizabeth was his father Mose's second wife—Wright cut to the chase, and immediately he began to set the record straight about their encounter with Carolyn Bryant.
In the book, Wright fully explained the circumstances surrounding the wolf whistle that actually occurred, thereby putting to rest the many allegations. "We all looked at each other," he wrote, "realizing that Bobo had violated a longstanding unwritten law, a social taboo about conduct between Blacks and whites in the South. Suddenly, we felt we were in danger…and we ran to the car. Bobo, with a slight limp from the polio he'd contracted as a child, ran along with us, but not as panic-stricken as we were."