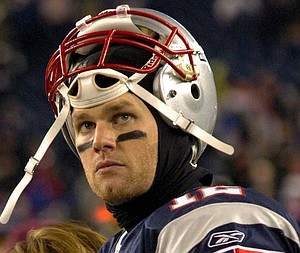 For football fans, tonight (Thursday) begins the official start of the new NFL season, and like the last few, it's co-opted by controversy, as well as a few concerns regarding the weather. 
The pending suspension of Dallas Cowboys running back Ezekiel Elliot now trumps the ongoing national anthem saga started by quarterback Colin Kaepernick last year around this time. Kaep is now officially unemployed because of a de facto league boycott against him that probably will not be lifted until team owners are certain that high school and college quarterbacks will not be eligible to be added to NFL team rosters. 
There's also been mentions of a boycott, or "mancott" as it's described by African-American clergy members from Huntsville, Ala., who've initiated this action, encouraging other leaders to refrain from watching NFL games, purchasing NFL-licensed paraphernalia and participating in Fantasy Football in support of Kaepernick. It's mounting, somewhat, but remember, "You're going to war with a corporation [the NFL] that owns a day of the week," which the union, the NFLPA, is now preparing to challenge, to improve on their last collective bargaining agreement that will soon expire, just as the league's 31 teams prepare to challenge the defending Super Bowl champion New England Patriots.
The Patriots, with five-time Super Bowl champion quarterback Tom Brady, 40, in his 17th season, should have no problem sweeping through the teams in their AFC East Conference, the Miami Dolphins (10 wins last season), the Buffalo Bills (7 wins last season) and the New York Jets (5 wins last season), their conference rivals. Miami has already suffered through a major setback because a season-ending knee injury to Ryan Tannehill, their starting quarterback. The Jets will start the season on the road Sunday in Buffalo against the Bills with Josh McCown, a 38-year-old veteran journeyman quarterback signed in the offseason. Drafted by the Arizona Cardinals in the third round in 2002, McCown is now with his 10th NFL team. McCown is backed up by third-year Jets QB Bryce Petty and sophomore Christian Hackenberg.
The Jets have also shed themselves of, or didn't re-sign, several of their big-money earners, the most recent, defensive linebacker Sheldon Richardson, who was traded to the Seattle Seahawks last week for receiver Jermaine Kearse.
What's expected from the Jets this season? Las Vegas odds makers have them listed at 1000-1 to appear in this season's Super Bowl in February 2018.
Tyrod Taylor, Buffalo's quarterback, has just been cleared to play after having to sit out the end of preseason because of a concussion.
New England will receive their greatest challenge this season, to prevent them from repeating as AFC Conference champions, from the Kansas Chiefs and the Oakland Raiders, both 12-4 last season, and the Pittsburgh Steelers who were 11-5.