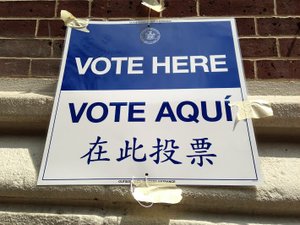 Sept. 12 is swiftly approaching. That is the date for New York City municipal elections for mayor, comptroller, public advocate, City Council, district attorneys and civil judges. Unfortunately, many people do not know elections will be taking place in less than one week, but it is imperative to vote in local races because elected officials oversee massive budgets and so many aspects of your daily life. If you would like to know more about who will be on your ballot, I suggest you go to www.whosontheballot.org to find out which candidates are running in your particular district, as well as to find out your polling location.
Many people are still processing the presidential election of 2016, and although presidential elections are extremely important (as we have seen these past eight months), I would argue that local elections are just as important. Unfortunately, New York has recently exhibited abysmal turnout in local elections. In the 2013 primaries, less than 20 percent of eligible voters bothered to go to the voting booths. We must get involved and look at candidates who will make policy about housing, stop and frisk, Rikers, homelessness, court systems and how New York invests its money (and those are just a few issues).
Color of Change has been doing work around the country to investigate district attorneys because they have the authority to imprison our youth for obscene amounts of time. Color of Change found that far too many DAs "automatically" get elected, even with records of harsh policies aimed directly at Black and Latino youth. On Sept.12 we will have to make choices as to which DA will have the honor of representing our particular borough. Additionally, elected judges have incredible discretion as to sentencing versus harm-reduction approaches and alternatives to incarceration. City Council members pass legislation that will affect how we survive or thrive in this city. They also have discretionary budgets to funnel money to various nonprofits doing work in our communities.
The mayor leads our city, not just in the five boroughs, but nationally and internationally as well. We should take a close look to make sure that the candidates share our values as partisans, as well as personally. The comptroller of New York City is the money person. They invest our hard-earned taxes and decide how contracts get allocated; and the public advocate serves as a check on the mayor, as well as advocates on behalf of the particular needs and wants of NYC's citizens.
Hopefully you are registered to participate in the Sept. 12 primaries. If you aren't go to www.vote.nyc.ny.us to register so you can participate in the Nov. 7 general election when Democrats and Republicans go head to head for these offices. If you vote on Sept. 12, you should also vote on Nov. 7. A healthy democracy needs your participation.
Christina Greer, Ph.D., is an associate professor at Fordham University, the author of "Black Ethnics: Race, Immigration, and the Pursuit of the American Dream" and the host of The Aftermath on Ozy.com. You can find her on Twitter @Racegoer.