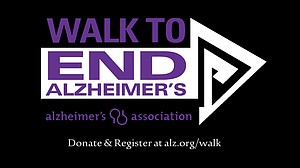 The Alzheimer's Association – New York City Chapter invites Manhattan residents to join the fight to end Alzheimer's by participating in the Alzheimer's Association Walk to End Alzheimer's. The Manhattan Walk will take place Saturday, Oct. 28, at South Street Seaport in Manhattan. Registration opens at 8:30 a.m., the program starts at 9:45 a.m., and the walk starts at 10:15 a.m.
The Alzheimer's Association Walk to End
Alzheimer's is the world's largest event to raise awareness and funds for Alzheimer's care, support and research. Held annually in more than 600 communities nationwide and four locations in New York City, this inspiring event calls on participants of all ages and abilities to reclaim the future for millions.
Alzheimer's Association champion and journalist Richard Lui of MSNBC and NBC News will serve as the Manhattan Walk's master of ceremonies. Lui is a long-distance caregiver for his father, who is living with Alzheimer's, and regularly travels coast to coast to be with his family.
Before the Walk begins, there will be opportunities to visit information tents about support programs and services, advocacy opportunities and a clinical-studies matching service called Trial Match, all provided free of charge by the Alzheimer's Association. Participants of all ages can also enjoy a photobooth station, a kid zone and other family-friendly activities.
All Walk to End Alzheimer's events across the country feature the Promise Garden ceremony—a hands-on, mission-focused activity that allows participants to raise flowers representing their promise to remember, honor, care and fight for those living with Alzheimer's disease and their caregivers. The flowers highlight the diverse reasons for Walk participation and collectively create a dynamic, colorful and meaningful garden. Following the Promise Garden ceremony, there will be two Walk options in Manhattan: the first route length is 2 miles to the Brooklyn Bridge first tower; the second route to City Hall Park is 1.5 miles.
"The Walk to End Alzheimer's is an extremely meaningful day for thousands of New Yorkers who come together as a community with a shared mission to raise awareness and funds to help fight this terrible disease," said Alzheimer's Association-New York City Chapter executive director Chris Smith. "I look forward to walking with my fellow New Yorkers, in solidarity with the more than 5 million Americans who are living with Alzheimer's disease."
For information about how to participate in New York City as an individual or to start a team of family, friends or co-workers, see the Walk to End Alzheimer's page at www.alz.org/nyc.