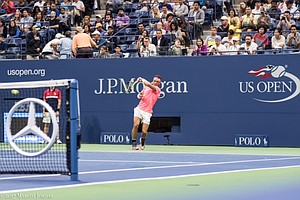 The Men's Semifinals of the U.S. Open begins tomorrow, Friday, with the winners from four of the Opens featured in matches this week: Rafael Nadal versus Andrey Rublev, Roger Federer versus J. Del Potro, Sam Query versus Kevin Anderson and Pablo Carreno Busta versus Diego Schwartzman.
Nadal, 31 (Spain) and
Federer, 36 (Switzerland), two of the sport's biggest names, are ranked No. 1 and No. 3. Andy Murray, ranked two, withdrew before the Open began because of a hip injury. Stan Wawrinka, currently ranked fourth in tennis, and the men's defending U.S. Open champion, missed this year's Open in Flushing Meadows, Queens to undergo surgery on his left knee.
"I had to make a difficult decision, to undergo a medical intervention on my knee," said Wawrinka who won his third grand-slam title last year. "This was the only solution to make sure I will be able to compete at the top level for many more years." Wawrinka defeated Novak Djokovic in last year's finals. Djokovic was also unable to compete in this season's Open because of an elbow injury that gave him problems during the quarter-finals at Wimbledon.
Nadal, a two-time U.S. Open winner, first won in 2010 and then in 2013. He has grossed more than $86 million in earnings during his career. Federer who has grossed more than $107 million throughout his career, has won the Men's U.S. Open title in 2004, 2005, 2006, 2007 and 2008. He has played 79 Open matches on the Arthur Ashe court, throughout his career, which is a record number for a male player.
"I'm just happy that I get the opportunity so often to play on Ashe. I grew up on this court," noted Federer. This year is the 20th anniversary of the famed stadium built on the grounds of the Billie Jean King National Tennis Center.
Winners of the Men's Semifinals Friday play for the U.S. Open championship Sunday. The grand prize is $3.7 million, the largest amount of prize money for a single player (male or female) in the world, and the winners also receive a very distinguished sterling-silver cup.