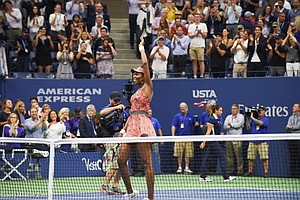 For the first time in US Open history, three African- American women, Venus Williams, Sloane Stevens and Madison Keyes have all advanced to an Open's quarterfinal round at the same time.
The quarterfinals, scheduled for tonight (Wednesday) and tomorrow, Thursday at the Arthur Ashe Stadium on the grounds of the Billie Jean King National Tennis Center in Flushing Meadow, Queens matches Madison Keyes, ranked 15th verses Kaia Kanepi, 32 from Estonia, a foreign seaside resort town, tonight, beginning at 7pm and Williams verses Stephens tomorrow. Coincidently, this Open is the anniversary of Althea Gibson, the first African-American woman to win the US Open 60 years ago, a historic victory several weeks after her 30th birthday in 1957. A documentary about the iconic American entitled, "Althea" will be shown to invited guest on Thursday afternoon.
Williams, 37; a two time US Open winner (two doubles victories) and the sister of Serena Williams, a six time Open winner, Sloane Stephens, 24; and Madison Keys, 22, are competing for 3.7 million dollars in prize money. When asked about their upcoming match, Williams said, "I don't think I have ever played her," after giving it considerable thought "Regardless, whatever happens, I have to focus on what's happening on my side of the court, make evaluations out there, when I'm out there in terms of strategy, and see what's working." The US Open Women's Championship will be held on Saturday, also at Ashe Stadium.