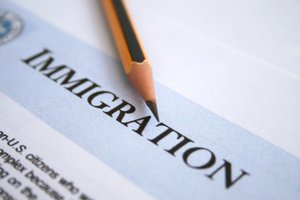 (CNN) -- Bruna Distinto can't stop staring at her cell phone.
Sure, she's a millennial. But the 22-year-old college senior says that's not why she stays glued to the screen.
"I'm reading the news all the time. It's almost an obsession," Distinto says, "because it's my life at risk."
Distinto is among nearly 800,000 people who could face deportation if President Donald Trump pulls the plug on a program that protects undocumented immigrants who were brought to the United States as children.
His decision could come as early as this week.
Distinto says she turns to Google like clockwork throughout the day, typing in the four letters that have reshaped her life over the past four years: D-A-C-A.
Lately the headlines have grown increasingly alarming for her and other so-called Dreamers, as word spreads that Trump is weighing whether to phase out the Deferred Action for Childhood Arrivals program.
Created by the Obama administration in 2012, the program gives Dreamers temporary work permits and protects them from deportation if they submit biometric data to the government, pass a background check and maintain a clean record.
Pending Trump immigration action could pressure Hill to act
DACA's future has been murky ever since Trump took office. As a candidate he vowed to slash it, but he hinted at a softer stance once he made it to the White House, pledging to handle the situation "with heart." Now the President is said to be weighing his options on DACA as a potential court fight looms.
Immigrant rights groups are on the offensive, holding rallies and pressuring Congress to stand up for the program and pass a more permanent solution. Meanwhile, Dreamers across the United States are bracing themselves for the possibility of losing driver's licenses, jobs or funding for their educations -- and eventually facing deportation to countries many of them barely remember.
Distinto, who came to the United States from Bolivia when she was 6, started her senior year at Trinity Washington University this week. She says it's hard to focus on her studies with so much stress swirling through her mind.
"If he takes it away, then I have gone to school, I've done all this hard work to try to help my family, for nothing, because I wouldn't be able to work once I graduate next year," she says. "That's all I think about."
'Are you going to hunt us down?'
Emmanuel Diaz was mowing the lawn at a church in Baxley, Georgia, when he got a text about the Obama administration's new program back in 2012.
The 17-year-old rushed to show his mother, who brought him to the United States from Colima, Mexico, when he was 2.
"This is it! This is it! This is it!" he told her.
"Don't get your hopes up," she replied.
Several months after applying, his DACA acceptance came, and his hope for the future grew.
"I ran to that mailbox like you could not imagine," he says. "It was better than a little kid at Christmas going to the tree."