Talking SCHOP! Halloween tricks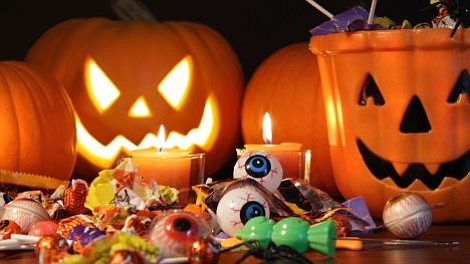 I do love Halloween—seeing kids both young and old getting into the spirit. I do my best to buy candy I don't like to distribute for trick-or-treating. The problem is there isn't much candy I don't like. Plus, I don't want to be the neighbor giving out whack candy.
One of my favorite candies is that peanut butter cup. I stick 'em in the freezer for the perfect texture. With that in mind I found this awesome recipe on Epicurious.com that blows up this cup to a tart. You are going to need a 10-inch fluted tart pan with removable bottom.
Nonstick vegetable oil spray
18 ounces milk, semisweet and/or bittersweet chocolate (preferably 40–60 percent cacao), chopped
1 tablespoon plus 1 1/2 teaspoons coconut or other neutral vegetable oil
1 pound (about 3 1/2 cups) unsalted, dry-roasted peanuts (unseasoned, just peanuts)
1 1/2 cups powdered sugar
3 tablespoons creamy peanut butter
1 3/4 teaspoons fine sea salt
Spray inside of tart pan ring with nonstick spray. Wrap removable bottom of pan with plastic wrap; gather excess plastic underneath (it should be smooth on top of removable bottom). Set inside ring.
Heat chocolate in a heatproof bowl set over a saucepan of barely simmering water (bowl should not touch water), stirring, until melted. Remove from heat and, stirring constantly, add oil. Let cool, stirring occasionally, until chocolate mixture firms slightly, approximately 10 minutes.
Pour a little less than half of chocolate mixture into prepared pan; reserve remaining chocolate mixture at room temperature. Tilt pan until bottom is evenly coated. Chill until firm, approximately 15 minutes.
Meanwhile, purée peanuts, powdered sugar, peanut butter and salt in a food processor, scraping bowl often, until mixture forms a large mass around the blade that sticks together; do not over process or mixture will be too soft and greasy.
Transfer peanut mixture to a large sheet of wax paper. Press firmly into a disk 1/4 inch smaller than diameter of tart pan, approximately 9 3/4 inches, until no cracks remain. Carefully invert disk into tart pan, centering it. Peel off and discard wax paper.
Pour reserved chocolate mixture (it should be the consistency of fudge sauce) over center of peanut disk. Tilt pan to spread completely over the top, filling the gap between edges of pan and disk, until smooth. Chill until firm, approximately 45 minutes.
Remove sides of tart pan. Carefully lift tart off bottom of pan, then slide onto a platter while removing plastic wrap. Let sit at room temperature 10 minutes, and then cut into wedges.
Send it over the top and make it à la mode with good vanilla ice cream!
Happy eating and thanks for reading!
Kysha Harris is a food writer and editor, culinary producer, consultant and owner of SCHOP!, a personalized food service in NYC for more than 15 years. Follow her on Twitter and Instagram, @SCHOPgirl, on Facebook, /SCHOPnyc, and her blog, www.talkingSCHOP.wordpress.com. Questions? Comments? Requests? Feedback? Invitations! Email AmNewsFOOD at AmNewsFOOD@SCHOPnyc.com. Follow us on Instagram, Twitter and Facebook @NYAmNewsFOOD and tag us with #SoAmNewsFOOD with your food finds!