'Oedipus El Rey' extended at Public Theater until Dec. 3
LAPACAZO SANDOVAL | 10/19/2017, 4:05 p.m.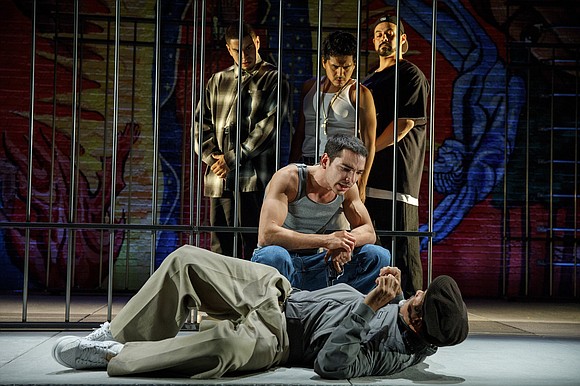 "Oedipus El Rey" has yet to officially open at the Public Theater—still in previews—but the response has been so overwhelmingly positive that it has extended its run until Dec. 3.
"Oedipus El Rey" is an electrifying play made in collaboration with The Sol Project. There is so much to celebrate as part of the Public's Astor Anniversary Season, taking place at their landmark downtown home on Lafayette Street. They are celebrating 50 years of new work at 425 Lafayette St. and the 50th anniversary of "Hair." How groovy is that?
"Oedipus El Rey" is written by acclaimed playwright Luis Alfaro and directed by Chay Yew. The show officially opens Oct. 24.
The cast is impressive and features Juan Castano (Oedipus, Coro); Sandra Delgado (Jocasta); Julio Monge (Tiresias, Coro); Joel Perez (Creon, Coro); Brian Quijada (Coro); Reza Salazar (Coro); and Juan Francisco Villa (Laius, Coro).
There is nothing boring about this night at the theater. Set in South Central LA, "Oedipus El Rey" steps into the pages of the Greek tragedy. In Alfaro's version, Oedipus is reimagined as a troubled Latino whose dreams of controlling his own destiny soar above the barbed wire of the prison where he's spent his life. But in a place where everyone is trapped—by desperation or fate, history or violence—no one man can change his story alone. Love, family and belief collide in this chilling, incredibly powerful new play that asks what is fate and what's just the system.
Director Yew uses the stage brilliantly, and members of the sitting audience become a part of the story as well. The scenic design by Riccardo Hernandez might seem simple, but in the blink of an eye you are transported into these characters.
Similarly, the costume design by Anita Yavich reflects a culture, time and place. The costumes as seen under the lighting design by Lap Chi Chu and the original music and sound design by Fabian Obispo bring the magic of theater alive. The fight scenes feel authentic, and that's in part because of the fight and intimacy direction provided by Unkle Dave's Fight House.
For more information, visit www.publictheater.org.