Less than 48 hours in Amsterdam
MEGAN PINCKNEY | 10/19/2017, 5:27 p.m.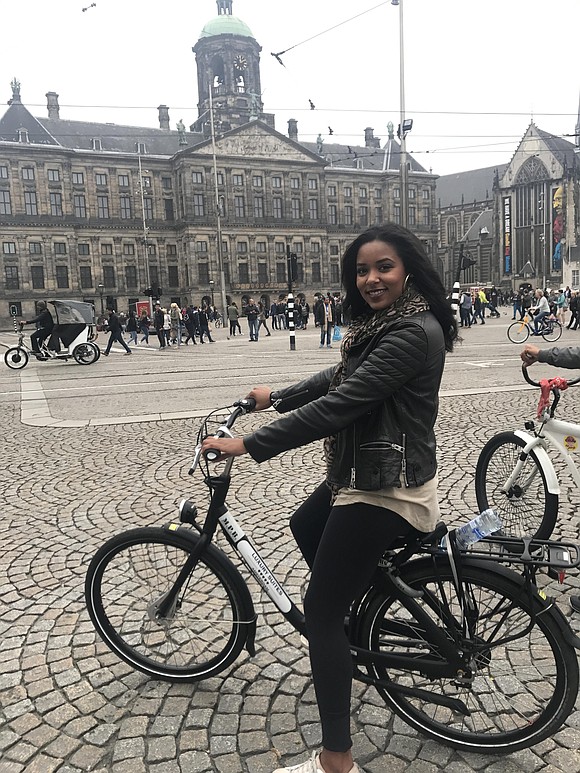 The quiet, picturesque city of Amsterdam is made up of dreamy canals, cozy restaurants and the friendliest people, making it an easy place to explore—even if you don't have much time.
11:45 a.m.—Acquaint your palette with Amsterdam through one of the city's favorite foods—pancakes. Stop into local favorite Pancakes Amsterdam, at their location nearest Centraal train station, for a variety of modern twists on the traditional recipe. I couldn't get enough of the bacon and apple pancake, or the apple crumble pancake—which is topped with real apple pie, ice cream and cinnamon. But I'm sure you couldn't go wrong with any choice. Just be sure to wash it all down with freshly made raspberry and mint lemonade. The only thing that could top the food here is the atmosphere. The Dutch "gezelligheid" (or cozy, welcoming atmosphere) is particularly present here. Both inside and out, there are mostly long large tables, which encourage community, along with open bars and kitchens to promote togetherness.
1 p.m.—Hop onboard a small open air boat and explore the canals of Amsterdam like a local. Kinboat offers a Like a Local tour daily throughout the year, excluding winter months, with a guide who offers interesting, local insights to what you'll see. Note: historical facts and figures are hardly mentioned so you should treat this tour more as a sightseeing tour than as a way to gain information. The 75-minute journey cruises in and out of canals and straits while you discover the beauty of the many Dutch gable facades lining the river. The tour also includes your choice of two drinks: beer, wine or nonalcoholic. Tickets are 24.50 euros for adults and 13 euros for children. You'll be picked up and dropped off at Centraal station Oost.
1:45 p.m.—Indulge in Amsterdam's favorite pastime at a local coffee shop. It should be noted that in The Netherlands a coffee shop isn't a place you go to grab a cup of joe. Instead, it's a local cannabis shop that legally sells a variety of strains and species of marijuana by the bud or pre-rolled. Costumers purchase supplies, and then either smoke in-house or take it back to their private residences. There is a Black-owned shop that has gained a lot of traction from locals and guests. The African Blackstar has a highly knowledgeable and welcoming staff and would be the perfect stop for a first-timer or a seasoned smoker.
3:15 p.m.—Swing by the only ice cream shop in the world (that I'm aware of) that can get away with only offering one flavor. At Banketbakkerij Van Der Linde, a generations-old family business, the only option customers have is cup or waffle cone. The shop only offers a whipped cream ice cream, which is literally just plain milk ice cream gently mixed with actual whipped cream. The flavor is unlike anything I had ever tasted before, and is a Dutch favorite. The long line outside of the door is indication enough that people can't get enough of this treat. Luckily, the line moves pretty quickly— as long as people aren't sticking around to watch them make a new batch. A size small starts at 0.95 euros.