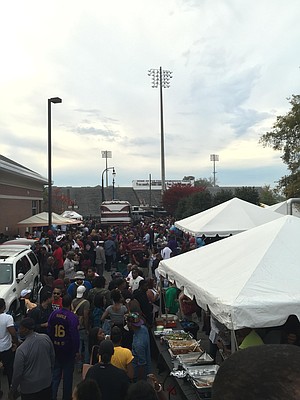 At historically Black colleges and universities, homecoming is more than a football game—it's like a family reunion during college football season, where the who's who, of both the past and present, return to campus—decked out in their university sweatshirts and Greek letters—for that one weekend just to relish the place that helped shape them during such formative years.
Of course, very little of that weekend has anything to do with a football game. Sure, people make their way into the stadium around halftime to catch award-winning bands and watch the dancers that come along with them, but instead of cheering for their team throughout the game, like you'd imagine, students, alumni and everyone in between gather right outside the stadium to tailgate, reconnect and bask in the type of fellowship that only HBCUs can bring.
For HBCU graduates, homecoming is more than just a chance to come back to the yard and reminisce. It is a chance not only to reconnect with old friends, but also to be renewed by the experiences you shared with them. It is a time to be re-energized and know that you are not the only one breaking barriers and overcoming obstacles.
Planning to visit a place you once called home isn't always easy, especially when, over the years, you've lost touch with the town or have few or no friends still living there. But homecoming really is such a special event, you should try your best not to miss it.
The first thing you should decide when returning to your old stomping grounds for homecoming is whether you want to host your own tailgate. A tailgate is like an outdoor picnic, except on steroids. In a predetermined location, someone sets up with food, alcohol and music to act as a "home base" during the game for family and friends. Sounds simple enough. However, tailgates range in size and can get quite serious. Although it's easier to prepare food before you leave your house, and then just set it out when you arrive to the tailgate, some people take food preparation to a new level by hitching a grill to their truck and grilling out at their tailgate spots. Some fans even bring a generator so that they can set up TVs to watch other college football games throughout the day.
Because tailgating is also kind of a sport, typically the people who host them live in or near that town, because traveling with all those items can become overwhelming. If you plan on flying or are driving a long distance, I'd say skip hosting your own and find one you can join.
On game days, usually, the entire parking lot turns into one large tailgate, so there will be many to choose from. Walk around and I'm certain you'll run into someone you once knew. Also, people are extremely friendly on game days (a lot of that has to do with all the alcohol they consume), so don't be afraid to make friends and share your experiences of college life.