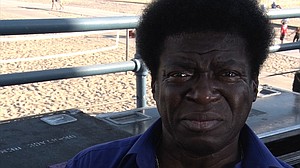 The electrifying stage performer and funk and soul revivalist Charles Bradley died at 68 years old in late September. Known for his raspy, weeping soul ballads and passionate vocal performances, Bradley found success later in life after recording his debut album, "No Time for Dreaming," at the age of 62 years old. The Gainesville, Fla., born musician died in Brooklyn, N.Y., after battling stomach cancer. Bradley announced his illness to the press some months ago but lent hope to his fans as he continued to perform after a short hiatus, playing shows nearly to his last days. He was booked to play Europe in November 2017.
Bradley performed as Black Velvet, a James Brown impersonator, in clubs all over Brooklyn from 1996 to 2010 before being discovered and signed by Sharon Jones & the Dap-Kings' label, Daptone Records. Bradley released all of his solo albums with Daptone Records: "No Time for Dreaming" in 2011, "Victim of Love" in 2013 and "Changes" in 2016.
In a statement, Gabriel Roth, a founder of Daptone who discovered Bradley as the James Brown tribute act Black Velvet, said, "Charles was somehow one of the meekest and strongest people I've ever known. His pain was a cry for universal love and humanity.''
Like his idol Brown or his fellow soul revivalist Sharon Jones, whose career closely mirrored his own, Bradley sang wearily of personal travails and social concerns, often emphasizing the overlap between the two. "Why is it so hard to make it in America?" he cried on his debut. On "The World (Is Going Up in Flames)," he added, "This world/is going up in flames/and nobody/wants to take the blame."
Bradley was a force to be reckoned with onstage, but he also exuded kindness and continuously shared his message of love and forgiveness to fans and audiences. Bradley is a great loss to Black contemporary music and will truly be missed.