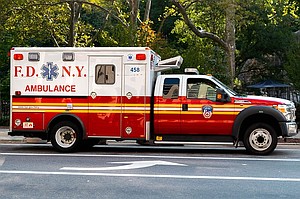 Lleryn Montan is a mother of three attempting to pursue an EMT career. She had recently signed up for a free EMT training program provided by Davis Training Programs. A few days before classes began, she (and others) learned that the program was suspended while undergoing an audit from the New York State Department of Health.
"I wanted you to know that this program means everything to me at this point of my life," wrote Montan in an emailed letter. "I have worked very hard to get all the requirements together for the program. For example, getting CPR Certify, immunizations up to date, FEMA certifications, books, uniforms, insurance, etc. It is disgusting to see that this is happening. I am trying to become a better citizen by helping others saving their lives and this what I get from the NYS Department of Health."
Montan wasn't the only one who sent a letter to the AmNews or to the offices of the state health department and New York State Gov. Andrew Cuomo. Each letter discussed how much the program could help them and lead them to a life of rewarding work and financial independence. According to Stephen E. Davis III, who runs the programs, a lot of his students tend to be on public assistance, homeless or in some situation where they're desperate to better their lives.
"We're just trying to help some people in the community," Davis said. "I know what it's like to be on public assistance. I know what it's like to be broke. I wouldn't have gotten where I'm at if someone didn't help me."
According to Davis, the state health department suspended his program in August after a routine audit. He said that an audit for a program like his usually lasts two days.
"There's an agreement you sign with the health department before running these programs," explained Davis. "You promise to have x amount of equipment and instructors. Since I run the classes for free in New York City, they asked to see some of the equipment, but it doesn't stay on-site. They said it needed to be on-site. Some of the things in the records they requested, they don't ask other schools for them."
He continued, "They asked to access stuff outside of the signed agreement."
Davis stated he had gotten his equipment, which includes ambulances, from Coling Medical Transport as a donation before they went bankrupt.
During the audit, Davis said state officials asked if the equipment was "appropriated."
When the AmNews emailed the state health department about the matter, a representative claimed to have needed more explanation of the situation. When we provided them specifics, they said the department would get back to us. The next day we contacted a supervisor in the health department who received letters from people calling for a lift to the suspension. We were directed to the public affairs department who told us to send an email to the same people initially contacted.
A representative for the state health department eventually got back to the AmNews right before press time and said, "The State Department of Health recognizes the importance of having highly trained EMS professionals in our communities who respond quickly to those in need. The Department's Bureau of Emergency Medical Services is investigating the business operation of Davis Training's EMS certification courses to ensure students receive the appropriate education.