#JusticeForCyntoiaBrown: Supporters rally for release of sex trafficking victim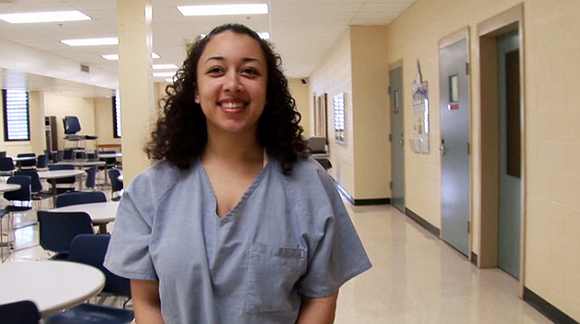 A global movement that includes celebrities and hundreds of supporters are calling for the release of sex trafficking victim Cyntoia Brown in Nashville, Tenn. Brown was sentenced to life in prison for killing a man who raped and abused her.
Brown, 29, ran away from home when she was 16 and became the victim of sex trafficking at the hands of a pimp named Garion "Cut Throat" McGlothen. She was forced into prostitution, and in August 2004, she was purchased by a 43-year-old real estate agent, Johnny Allen.
After weeks of being abused and raped by Allen, Brown found one of several guns he owned and used one of them to kill him while he slept. She was arrested and charged with his murder. Brown claimed self-defense because she thought Allen was going to kill her.
Brown's defense attorney says that Brown suffers from developmental delays because of fetal alcohol syndrome. Her mother consumed alcohol while pregnant with her.
At age 16 Brown was sentenced to 51 years to life in prison for first-degree murder. She is eligible for parole when she is 69.
"It is about her, but it's also about the issues, and I think that's what she feels strongly about," Charles Bone, Brown's attorney, said in one interview. "The issues of sex trafficking and sex slavery and juvenile justice all need a lot of attention throughout the world but especially here in Tennessee."
Brown's story first gained attention in 2011 with the release of "Me Facing Life: Cyntoia's Story," by producer/director Daniel Birman on PBS. A renewed interest in the case comes as Bone is preparing to go before the Sixth Circuit Court of Appeals next year.
According to the YWCA, a recent study showed that 86 percent of women in jail are survivors of sexual violence.
"Cyntoia Brown was just a child, and she was repeatedly abused," said YWCA USA CEO, Alejandra Y. Castillo. "She was a victim of sexual violence and predation, and she was punished for navigating abuse however she knew how. Girls shouldn't be punished for the lengths they go to in order to survive."
Recently, Brown's case has gone viral on social media, where she's gotten support from celebrities, including T.I., Rihanna and Kim Kardashian.
"Something [is] horribly wrong when the system enables these rapists, and the victim is thrown away for life," Rihanna wrote on Instagram.
A petition on MoveOn.org has garnered 433,000 signatures in hopes Brown will get clemency from Tennessee Governor Bill Haslam.
"We have been very, very surprised," said Bone. "The entire team, as well as Cyntoia, obviously had no idea that this was going to happen or why it happened, and she is very appreciative of the support from everyone."
While at the Tennessee Prison for Women, Brown graduated with an Associates of Arts degree with a 4.0 GPA from Lipscomb University's Lipscomb Initiative for Education program, and will soon earn her bachelor's degree. She has helped other inmates earn their GEDs.