Effortless dressing soft styles for spring '18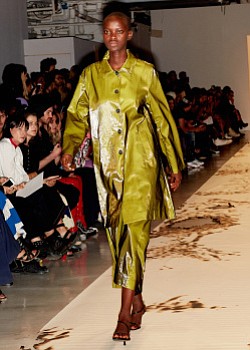 The brand PRISCAVera is a womenswear line that's based in New York. Established in 2015 by Prisca Vera Franchetti, the look is cool, casual and comfortable. The designer's clothes are relaxed, yet refined, and elegant. Her collection is geared toward the youth culture. Quality craftsmanship is extremely noticeable. The look reflects effortless dressing and a sophisticated attitude.
The backdrop and the runway were covered with an island print. These clothes are great to take on winter vacations to a warm place. In the collection, there are tropical prints, shape-making separates, long wrap skirts, slip top dresses, long skirts, tank tops, shorts, jumpsuits and shapely tank tops. For day, the lengths generally stop at the knee. Fabrics are silky soft, shiny and often sheer. Colors consisted of green, orange, gold, hot pink, pastels and black.
Maison the Faux is another creative studio that poses as a grand couture fashion house. They aspire to be an affectionate reaction to the current fashion industry and catch a big faux wink from an audience that's liberated enough to move freely. "The fictional house," a rough translation of Maison the Faux, is rooted in a great sense of humor and self-mockery, combined with a deep love for fashion. Maison the Faux represents a new outlook on masculinity and femininity in fashion by creating "Humanwear." As the creative team of Maison the Faux, designers Joris Suk and Tessa de Boer head up the Arnhem-based fashion house. For every collection and project, the company collaborates with individuals who are looking to shake up the fashion scene, create room for young designers and to innovate
design production.
The company was launched in January 2014 for Amsterdam Fashion Week. Since then, they have launched eight collections with the final two being shows at New York Fashion Week. There's news in the company's Faux Cosmetics collection. Their concepts and theatrical characters are popular at their show. In the future, they are planning to open a Maison the Faux Beirut brand store, launch a human-scented perfume line, an album and a reality TV show.