Hastings hosts tea time for area girls
Lois Elfman | 11/9/2017, 11:48 a.m.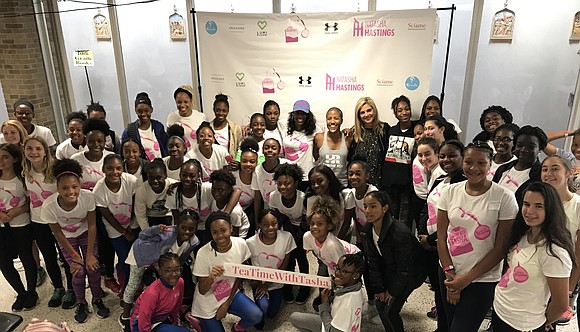 Over the past year, New York native Natasha Hastings, who won Olympic gold in the 4x400 relay in 2008 and 2016, has been creating videos that take people behind the scenes of track and field. In a series she has dubbed "tea time," Hastings answers questions from fans and often features fellow track athletes who share their experiences in the sport.
"It started out as showing the other side of Natasha, and it went from there," she said. "The YouTube channel is not just for girls, although it is girl sensitive. It's to let people into our world and see…the human side of the athletes."
The tea time concept evolved into an event that Hastings hosted at St. Anthony's High School on Long Island Oct. 28. Hastings, who attended A. Philip Randolph Campus High School in Harlem, has always been one to give back to the community. She built an event at which participants discussed body positivity, sports, self-esteem and character building, an important conversation to have with girls aged 12 to 18.
Hastings does love tea, and had originally thought to do an actual tea party. While tea was sipped, there was also time on the track and a panel discussion about sports and life.
"The goal and hope is that it grows into an actual tea party where it's still the same concept, building a safe space for girls to ask whatever questions they want," said Hastings. "Going through all the avenues that sport can lead to—whether it's something you end up doing professionally or it helps you cope in life or it helps you develop character."
She continued, "We as women have to take a more active role in telling our stories."
There has already been a request for another tea time, and a similar event in the New York area is being planned. Hastings' goal is to do a national tour—one per quarter while she's still competing and then more frequently in the future.
"Whatever it is that makes you happy and healthy, those are things you should follow," said Hastings, who's training for next year. "It's not about any sport in particular. It's about what you want in life that you're willing to work for and also believe you're worth all of those things. Don't allow anyone to say what you can and can't be."