A typical day on safari in Africa
MEGAN PINCKNEY | 11/2/2017, 3:50 p.m.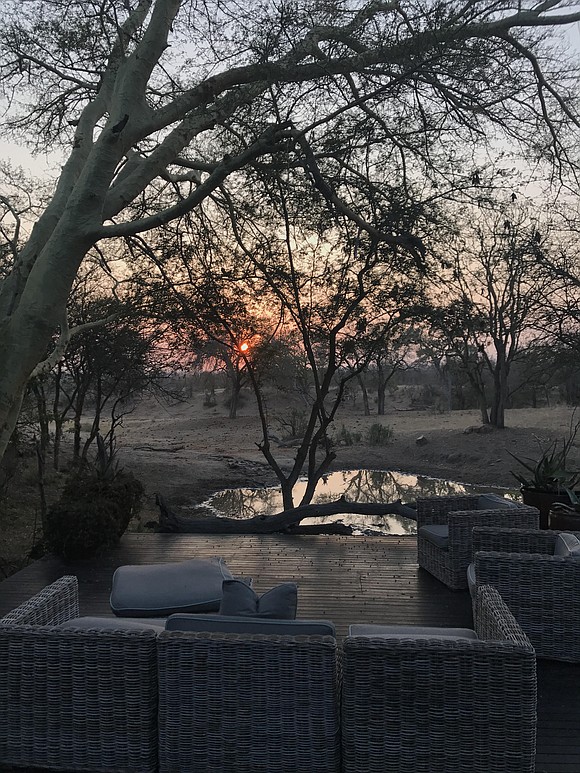 An African safari is most likely on every traveler's bucket list. But what exactly does one do while on safari?
Last month, I had the opportunity to take the vacation of a lifetime to South Africa, where we ended up spending approximately four days in "the bush" (any area of rural, undeveloped land). We stayed at the luxurious andBeyond Ngala Safari Lodge, a private game reserve that borders Kruger National Park, and truly enjoyed every moment of it.
As we were preparing for our trip, we didn't really know what to expect as a typical day. We knew we would be taking game drives (rides in safari vehicles) with hopes of spotting The Big 5 (lions, elephants, rhinoceros, leopards and buffalos) and other wildlife, but we weren't sure when or for how long those drives would take place. It turns out that, for the most part, days in the bush are pretty routine.
Your day begins at 5 a.m. sharp, with a wake-up knock at your door. You're given 30 minutes to prepare yourself for the morning: wash your face, brush your teeth, put on your safari gear and pack/grab whatever you'll need for the drive. At 5:30 a.m., you are expected to meet up with your group (or whoever you'll be in the vehicle with) and your guides outside for coffee and hot tea, along with fresh fruit and something small to hold you over for a few hours (such as a slice of cake). At this time the sun is beginning to peak through the clouds and always creates the most beautiful shades of orange and pink. At precisely 5:45 a.m., everyone heads to the safari vehicles and out for their first game
drive of the morning.
After driving around for an hour or two, trying to catch nocturnal animals before they go to sleep for the day and spotting other wildlife, your guides will stop off at some scenic location (my favorite was in front of the watering hole) to set up a coffee station. There they'll prepare a beverage and delicious homemade granola for you. You can choose from coffee, hot chocolate or my, personal favorite, Amarula coffee, which is coffee mixed with hot chocolate and spiked with Amarula (a sweet, creamy liqueur). Then you'll continue your game drive until approximately 9:30 a.m.
When you arrive back at the lodge, someone will be there to greet you and offer you warm hand towels to freshen up. Once you drop your belongings off at your cabin, you can head straight to the outdoor dining room for breakfast. Every morning our lodge gave us the option of choosing from two daily specials or just picking from a beautiful spread of breads, cheeses, porridge and fresh fruits, among other breakfast favorites.
The next few hours are yours to do as you please. You can head back to the room for a little nap, take a guided walk on trails near the lodge, get pampered at the spa with a massage, relax by the pool or just enjoy the company of the people you came with. One afternoon while we were there, we decided to visit a school in a village about an hour and a half away, that our resort—along with Africa Foundation—provides resources to.