For the Jets there's plenty of effort, not enough wins
Vincent Davis | 11/2/2017, 4:22 p.m.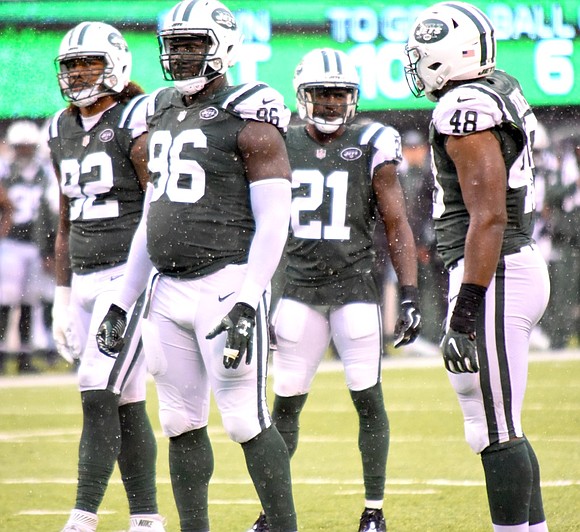 The Jets not only have the New England Patriots, the defending Super Bowl champs, on their schedule (twice), on Sunday they also faced the Atlanta Falcons, 2017 Super Bowl contenders, last season's NFC champions, but a team struggling this semester to accumulate wins.
Like the New York Jets, the Falcons began Sunday's rain-soaked game at MetLife Stadium with three wins each, but unlike the Jets, the Falcons left the Meadowlands in New Jersey with win No. 4.
The inclement weather was certainly a factor. Falcons quarterback Matt Ryan fumbled the ball twice in the first quarter. Once at the start, and once at the end. Two takeaways for the Jets' defense. Linebacker Jordan Jenkins is credited with the first recovery, safety Jamal Adams with the second. It's the first recovery credits of the season for each player, and the first professional one for Adams, a rookie.
Another Jets' player first was second year receiver Robbie Anderson's 100-plus total game yards. His first in an NFL game. A good day for him, one that he couldn't fully enjoy. "I would have felt a whole lot better if we would have came out on top," he replied after finishing with six receptions (104 yards), three 20-plus yard catches.
Ryan had his troubles, but so did Chandler Catanzaro, the Jets' kicker. His two misses, worth 3 points each, along with the team's poor play in the fourth quarter, set the Jets back, again, a 25-20 loss to the Falcons.
"We played hard for the most part," said Todd Bowles, the Jets' head coach. "It's disappointing not to win. It's disappointing we didn't close it out. Too many mistakes in the fourth quarter."
The key mistake? Several, including a poorly judged punt reception by Jeremy Kerley that placed the ball on the Jets' 13-yard line and a 52-yard run by Atlanta running back Tevin Coleman because of missed tackles by the Jets' defense. This mistake was critical. Add on their inability to score in the second half; 17 points in the first—only three in the second.
Bowles, frustrated for sure, but optimistic, has a short window this week. He commented, "We have to move forward." The 3-5 Jets play the Buffalo Bills, 5-2, second in the AFC East, their division rivals at MetLife tonight, Thursday.
As Bowles said, "We just have to stop taking body blows and start delivering them."