Fred Staton, a tenor saxophonist for the ages
Herb Boyd | 11/2/2017, 3:53 p.m.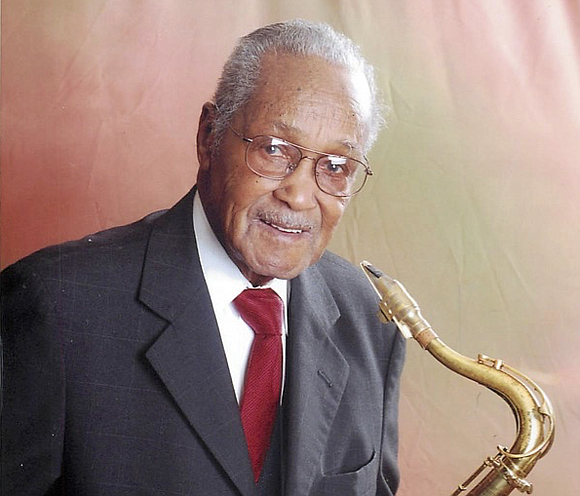 Because I won't be around for Fred Staton's home going services Nov. 2—the tenor saxophonist died Oct. 24 at the Atria Nursing Home & Zicklin Hospice in Riverdale, Bronx at 102—I thought the Classroom would be a perfect venue for a musician whose longevity was only exceeded by his soulful swinging.
It was at Sylvia Alston's last annual bash in Harlem that Staton got the dancers to the floor with his extended solo on Gershwin's "Our Love Is Here to Stay." That was several years ago, but Staton at that advanced age had lost none of the technique and style that ensured that his love was a mainstay for music lovers whenever he mounted the bandstand.
During the few interviews I had with him, Staton was soft-spoken and reluctant to talk too much about his personal life that he said began Feb. 14, 1915, in Pittsburgh. Even so, he wasn't too shy to talk about the number of Pittsburgh luminaries he knew or performed with, including Art Blakey, Errol Garner, Roy Eldridge or his sister, Dakota Staton, the vocalist who died in 2007. She gained national recognition from her recording of "The Late, Late Show."
Staton said his younger sister, "was a piece of work but from her early years she captivated listeners." He added jokingly, "But she was a Gemini, so you know she was capable of expressing a dual personality."
At Westinghouse High School, Staton was among a coterie of musicians, such as Billy Strayhorn and Ahmad Jamal, who went on to greater acclaim.
Staton was from the Swing Era and patterned his playing on a style made famous by Lester Young, Coleman Hawkins, Don Byas and Ben Webster. "Now, Ben, was one of my favorites," he said. And they certainly had a lot in common, particularly in the rather breathy attack and thoughtful phrasing given to ballads. But during a performance, Staton tended to lean with his horn at an angle, reminiscent of Lester Young, and they shared more than an affinity to the music of the '30s and '40s.
In discussing his background in music, he said at one time his instrument was the drums. "But after I found a saxophone and began practicing, I let the drums go," he said. Plus, it was a lot easier carrying a saxophone than lugging the battery of drums and other equipment. "By the time I finished packing of the drums, everybody was gone, including the girls."
He was skimpy on supplying information about his musical training, although for the most part he was self-taught. Listening to his mother's collection of records is where he first heard the big bands of Fletcher Henderson and Duke Ellington that largely influenced his love for jazz.
As a young man he had a family to raise, which meant there wasn't much time to devote to his passion for music. "I always kept my day gig, so to speak," he said. "There was a family to feed and bills to pay, and the music, no matter the opportunities, wasn't enough to take care of these things."