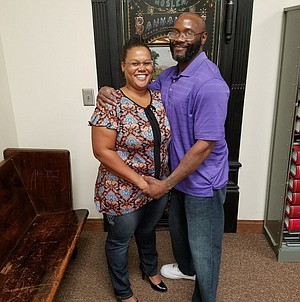 President Barack Obama paroled many of the men and women who were sentenced to overly harsh federal prison terms during the "War on Drugs." Black people were arrested, convicted and sentenced at an astounding rate during that period and to inordinately harsh terms under new "mandatory" minimum sentences passed by Congress and states. Lamont Durville Glass is one of the nearly 2,000 nonviolent drug offenders who got a second chance after he was granted clemency. He discussed his now and then as he tries to put back the missing pieces and start anew.
When Knoxville, Tenn., native Glass went to prison in 1997, he was the owner of a Nokia flip phone. Nineteen years later, he's a free man with a new perspective on life and he owns a Samsung Galaxy S7.
Glass is just one of hundreds of former inmates who were granted a clemency by President Barack Obama.
Glass was convicted and imprisoned in Knoxville for possession with intent to distribute cocaine and possession of a firearm. When he went in, he was 24. Today, he's 44.
"I really was expecting to die in jail," Glass said. "I felt like a lost soul. Since being out, everything just feels brighter. The air felt fresher, my shoulders were up and my head was held high."
Glass said his violent nature and the company he kept as a young kid contributed to the situations that landed him in jail, but he knows better now.
Growing up, he said, hustling was the only thing he knew. He didn't hold a job until after being released from prison.
"The money was great," he recalled. "I had … three cars and I had everything I needed. When I was younger, I just liked to fight. I was always around local drug dealers who I looked up to. But spending nearly 20 years in jail definitely humbled me."
When he was arrested for cocaine sales, Glass said his choice was either to plead guilty for a lesser sentence or go to trial. If convicted at trial, he said, he faced a possible sentence of 30 years to life. Instead, he chose to plead guilty and was sentenced to 21 years and 10 months in prison.
Glass heard about Obama's clemency program and applied. He recalled a time not long before his release, when he was on punishment in solitary confinement and was seriously feeling the weight of his sentence.
"I remember being in 'the hole' and telling God, 'You got me this far; please get me over these last three years,'" he said. "'Don't let me go crazy in here.'" Two weeks later, an officer came to the kitchen where Glass worked as a cook and told him he was a free man.
Glass's new-found freedom has been up and down, so far, he said. The good news is that he has been reunited with his four daughters. Glass missed most of his daughters' lives, but he says he's making up for lost time now that he has a second chance.