Ruben Diaz Jr. talks Bronx Week and the borough's resurgence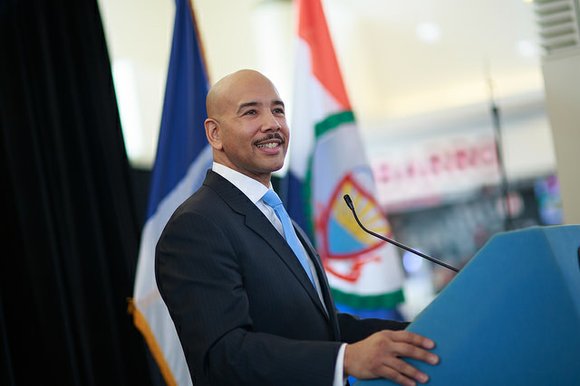 This time of year is always important to Bronx Borough President Ruben Diaz Jr. Not only is it Bronx Week, but also it's a chance for Diaz to show off his creation. Whereas New Yorkers have comedically referred to Staten Island as the "forgotten" borough, the Bronx became the openly mocked borough.
Throughout the 1960s, 1970s, 1980s and early 1900s, the Bronx was associated with urban blight, crime, drugs and gangs. The Bronx became fodder for late night television host Johnny Carson. The Bronx became the setting for many movies about street gangs and vigilante justice.
Those days have been over for some time now, according to Diaz.
"We live in a different Bronx that has progressed," said Diaz to the AmNews. "We're not the Bronx of the '70s, '80s and early '90s. There's still some people who have not visited us in a decade or people who've never been, who have allowed their perception of the Bronx to be clouded by those issues of yesterday."
Right before the 46th annual Bronx Week began, the AmNews talked with Diaz about the festivities and the borough's future.
"We want the world to know that we have a lot of hard-working families in our borough," said Diaz. Thursday, the beginning of Bronx Week, which runs from May 11 to May 21, Diaz will start the morning off with a labor breakfast at Veterans' Memorial Hall in the Bronx County Building. There, he will honor labor leaders and organizations such as the Communications Workers of America, Local 1180, President of the NYC Central Labor Council Vincent Alvarez, Bronx Board of Business Agents and Business Agent for Plumbers Local Union No.1 President Bobby Murray.
According to Diaz, the Bronx has cut unemployment from 14.1 percent to 5.7 percent during his tenure.
"We used to be the No. 1 in the state in unemployment," said Diaz. "There's now more than 22 other counties in the state of New York with worse unemployment."
Bronx Week also includes a tribute to Bronx community board members, a gala to honor veterans and a lunch celebrating Bronxites who are centenarians. Diaz also announced the new class for the Bronx Walk of Fame.
Singer/songwriter Prince Royce, DJ Funkmaster Flex, actress Selenis Leyva and medical device entrepreneur Manny Villafaña will add their names to the Grand Concourse.
"This is the time of year when the entire borough comes together to exhibit pride and show the rest of the world what a great place the Bronx truly is," said Bronx Tourism Council Executive Director Olga Luz Tirado in a statement. "We give our honorees a big hometown welcome as we celebrate their accomplishments!"
The "week" of festivities ends May 21 with a parade involving more than 100 schools and other groups along Mosholu Parkway, which leads on an international food festival and a concert featuring performances from Slick Rick and Doug E. Fresh.
Diaz told the AmNews that this week marks an "opportunity to exhibit the wonderful things about our borough."
He added, "That's what we work on every single day. We've seen 68 and a half million feet of economic development in the last eight years alone. We've restored green space and private parks. Tourism is up 14 percent. The Bronx is the safest Bronx that the world has seen in 50 years."
He mentioned that Bronx resurgence is the resurrection of the New York Yankees in baseball. Coming off a few dull seasons, the Yankees combination of up and coming young talent and veterans have them in first place in the American League Eastern Division. When asked about the Yankees, Diaz was quick to provide commentary that could rival any sports talk radio host.
"The reality is when you saw the giants like Derek Jeter and Mariano Rivera retire, the Yankees were rebuilding," he said. "And one thing they've done well as a ball club is develop that farm [system] and that next generation of talent. Now, if you're a Yankee fan, you're gonna be patient because the Yankees have enough pennants that we'll give them three or four years. They've been playing small ball and long ball. They're not a flashing team. They're young and hungry."
Not flashy, but hungry could be the same attitude many associate with the Bronx overall in 2017.