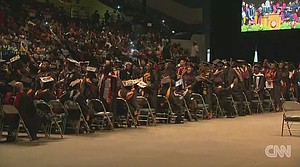 DAYTONA BEACH, Florida (CNN) -- Education Secretary Betsy DeVos faced an auditorium of jeering Bethune-Cookman University graduates Wednesday as she gave a commencement address that many students and graduates said she was in no place to deliver.
As she opened her remarks, some students stood and turned their backs to her. At times hecklers drowned out her remarks.
Perhaps foreseeing the resistance she'd face during her speech, DeVos told the crowd, "While we will undoubtedly disagree at times I hope we can do so respectfully. Let's choose to hear one another out. I want to reaffirm this administration's commitment to and support for (historically black colleges and universities) and the students they serve."
The commencement program said she was slated to speak an hour or more, but she wrapped up her remarks in about 20 minutes.
A huge chorus of boos erupted when DeVos was awarded an honorary doctorate, and again when she said she would visit the home of school founder Mary McLeod Bethune to pay her respects.
School president warns students
Early in her speech, DeVos told the crowd, "One of the hallmarks of higher education, and of democracy, is the ability to converse with and learn from those with whom we disagree."
At that point, the commencement became so rowdy that school President Edison Jackson interrupted DeVos' remarks to issue a warning to graduates.
"If this behavior continues, your degrees will be mailed to you," he said. "Choose which way you want to go."
Many of the standing graduates took their seats, but a few remained standing, prompting Jackson to implore them again to sit down.
The tone seemed to soften as DeVos continued, exhorting the students to embrace service as they enter the next phases of their lives.
"The human heart is hard-wired for service, and it's embedded in the DNA of this institution," she said.
During the speech, a sophomore, Bobbie Luke, right fist aloft, was escorted out of the Ocean Center. He told CNN he didn't know why he was removed.
"I'm standing with my seniors, man. No one likes her, man. Period," he said. "I don't like what she said, and nothing at the end of the day is going to change my opinion."
'Real pioneers' remark follows DeVos
Before DeVos' address, several students told CNN there was no place for her at commencement, and they're miffed they didn't have more say in picking a graduation speaker.
A primary reason for protesting her appearance -- and for petitioning school officials to cancel her address -- is her now-recanted statement that founders of historically black colleges and universities were "real pioneers" of school choice.
HBCUs, of course, were founded during segregation when black students were barred from attending white colleges in the South and beyond. DeVos walked back her comments, conceding the schools were born of racism, but it's not enough for many on this campus nor those who hold it dear.
"She's the secretary of education. Your job is to do research. Your job is to be committed to academia and know exactly what you're talking about ... what context you're saying it in," said 1996 graduate Fedrick Ingram, vice president of the Florida Education Association.