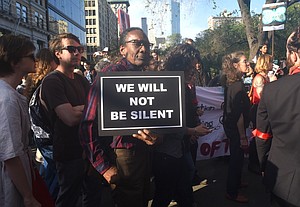 On the 102nd day of Donald Trump's presidency, the resistance he's sparked from the most vulnerable Americans continued on International Workers Day.
Labor unions, activists, elected officials and others gathered in New York City, New Jersey and around the country to celebrate the hard-fought victories of the labor movement while acknowledging the potential danger they face with a president many people consider anti-labor and pro-corporation.
At Union Square in Manhattan, workers and others rallied in favor of worker rights and making sure Trump hears them loud and clear.
"The Trump administration's anti-immigrant attack is meant to divide the working class," read a statement from the Workers World Party. "We must unite to defend migrants in order to defend all workers. On May 2, the movement will defend any worker who faces reprisals for Marching on May Day."
AFL-CIO President Richard Trumka's statement outlined his belief that corporations have divided Americans and scapegoated Latino workers to cover up for their anti-union and anti-labor behavior.
"The truth is more and more politicians are exploiting the insecurity and pain caused by corporate economic rules for political gain by stoking hatred and scapegoating Mexicans and other Latin American immigrants," stated Trumka. "We will not be divided like this. Workers north and south of the border find the idea of a border wall to be offensive and stand against the criminalization of immigrant workers. We need real immigration reform that keeps families together, raises labor standards and gives a voice to all workers."
But not all rallies went off without a hitch. In Seattle, five people were arrested during protests. In Oakland, four people were arrested after blocking a county building by forming a human chain. In Portland, 25 people were arrested after people, who police believe to be anarchists, vandalized property downtown and threw rocks and smoke bombs at officers.
However, the majority of protestors and activists stayed on message. One organization hoped that all workers would stand up to the threat of the Trump administration.
"With the first 100 days of this administration drawing to a close, we come together across movements to uplift people of color, immigrants, workers, women and the LGBTQ community," stated Judith Browne Dianis, national office executive director of Advancement Project, a racial justice organization. "The first chapter of this administration has meant 100 days of targeting, persecuting and marginalizing those it sees as not belonging in their vision for the country. Fighters in the centuries-old struggle for freedom in this country understood that the path to victory is long and treacherous, and today the racial justice movement is stronger than it has been in decades."
"In this light, we call on all migrant workers and refugees to stand up against this new face of U.S. imperialism, still the most powerful among the world super-powers," added the International Migrants Alliance in a statement. "Trump has pitted the U.S. working class against migrant workers and refugees, and so we must strive to create bridges, not bans or walls, to connect our struggles together."