Playwright and activist Lorraine Hansberry, was young, gifted and Black
Herb Boyd | 5/5/2017, 1:56 p.m.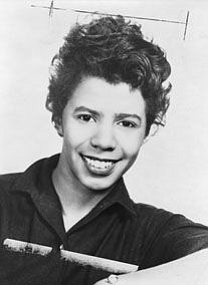 It was during this period that the first iterations of her famous play emerged as "The Crystal Stair," which like its final draft as "A Raisin in the Sun," owed its title to poems by Langston Hughes. The play premiered in 1959 at the Ethel Barrymore Theatre and was a huge success, running for 530 performances. Hansberry's play was the first by an African-American woman produced on Broadway, and she was the first Black playwright and the youngest to win the New York Critic's Circle award. Two years later, the filmed version, starring Sidney Poitier, would receive an award at the Cannes Film Festival.
An exchange between Asagai and Beneatha in the play embodies much of Hansberry's outlook and philosophy. "It isn't a circle—it is simply a long line—as in geometry, you know, one that reaches into infinity. And because we cannot see the end—we also cannot see how it changes. And it is very odd that those who see the changes—who dream, who will not give up—are called idealists…and those who see only the circle we call them the 'realists'!"
In effect, Hansberry might be seen as part idealist and realist. She was a determined artist with a revolutionary commitment to change but realistic about its possibilities in her lifetime.
It was impossible for her to ignore the burgeoning Civil Rights Movement of the late '50s and the '60s, and she devoted a considerable amount of time to the marches, rallies and lending her voice to the struggle to break down the walls of racism and discrimination, probably to the detriment of her art, to hear some critics.
Even so, the calling of the theater had to be answered and she delivered "The Sign in Sidney Brustein's Window" in 1964, assisted by Nemiroff, although they were divorced by then. A summary of the play, which is a radical departure from the intense racial politics of her major work, is not easy with its focus on the bohemian life in Greenwich Village that unravels in sequences of absurdity and disappointments. As in her famous play, elements of her life are mirrored in the play. The reviews, where they existed, were lukewarm to dismissive.
That Hansberry was able to complete the play given the onset of pancreatic cancer is amazing. Her illness was debilitating by this time so the lack of enthusiasm for her play was secondary to her survival, and she died Jan. 12, 1965. Nemiroff, in a tribute to her, mounted a play based on her collected writings entitled "To Be Young, Gifted and Black," and it ran for eight months off-Broadway.
In a letter she wrote to a white southerner in 1962, Hansberry offered these parting shots: "I think, then, that Negroes must concern themselves with every single means of struggle: legal, illegal, passive, active, violent and non-violent. That they must harass, debate, petition, give money to court struggles, sit-in, lie-down, strike, boycott, sing hymns, pray on steps—and shoot from their windows when the racists come cruising through their communities."