Playwright and activist Lorraine Hansberry, was young, gifted and Black
Herb Boyd | 5/5/2017, 1:56 p.m.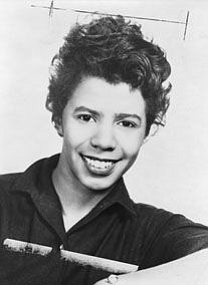 Finding a female counterpart to the remarkable August Wilson is not easy, but Lorraine Hansberry comes close, and she came to mind additionally as we prepare for Malcolm X's birthday May 19, which she shared.
Hansberry's legacy and accomplishments were also invoked recently in a discussion about the ever commanding presence of James Baldwin, and I thought of the letter he wrote about her in Esquire magazine in 1969. It was entitled "Sweet Lorraine," a nod to the popular song "and that's the way I always felt about her," Baldwin began, "and so I won't apologize for calling her that now."
Toward the end of the brief letter Baldwin commented on her condition and the cancer that had bedridden her. "I saw Lorraine in her hospital bed, as she was dying," he wrote. "She tried to speak, she couldn't. She did not seem frightened or sad, only exasperated that her body no longer obeyed her; she smiled and waved. But I prefer to remember her as she was the last time I saw her on her feet."
And that is my preference here, although I never saw her on her feet and only realized her brilliance and persona through the production of her plays, none more astonishing than "A Raisin in the Sun."
The granddaughter of a slave, Hansberry was born in Chicago May 19, 1930, and to a great degree her signature play was drawn from her coming of age in the Windy City and its environs. Her father was a successful realtor and her mother was a school teacher. Hansberry received her first encounter with racism when the family moved to an all-white neighborhood, where they faced violence and relentless hostility.
They refused to bend or to move until they were embroiled in a fight challenging the racist illegalities of restrictive covenants, which they won in the famous Supreme Court case Hansberry v. Lee. The budding playwright, rather than attend the traditional Black colleges like her parents, enrolled in the University of Wisconsin in Madison. Although a talented painter, she soon changed her major to writing, and then after two years dropped out of the school and moved to New York City.
Almost upon arrival in New York City, Hansberry began writing for a number of Black and alternative publications, including Paul Robeson's Freedom and the National Guardian a leftist weekly. One of her first dramatic pieces was done in collaboration with writer Julian Mayfield and performed at the communist connected Camp Unity in 1954.
Her political activism and reportage were complemented by her attendance at the New School for Social Research. There were also a number of menial jobs to pay the rent, but none that would interfere with her determination to write. During her tenure at the Ladder, a publication devoted to feminism and lesbianism, her own sexual orientation was exposed, forcing her for a while to write under an assumed name to hide the fact. Her lesbianism was further complicated after her marriage to Robert Nemiroff in 1953.