Ex-officer Michael Slager to plead guilty after killing unarmed Black man
Holly Yan, Khushbu Shah and Martin Savidge, CNN | 5/2/2017, 11:46 a.m.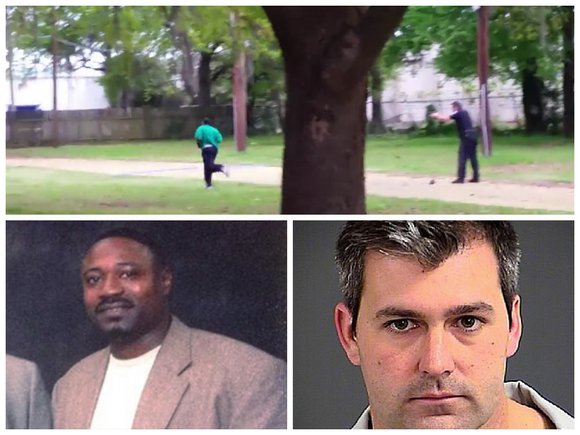 (CNN) -- Michael Slager, the former South Carolina police officer who fatally shot a man in the back, will plead guilty to a federal charge of using excessive force, his attorney said Tuesday.
The crime is a felony, punishable by up to life in prison.
Slager shot Walter Scott as Scott was running away from him after a traffic stop in April 2015. Scott's death sparked renewed "Black Lives Matter" protests after the 50-year-old became the latest in a series of unarmed black men killed by police.
Slager's guilty plea, expected at 2:30 p.m. Tuesday, is part of a plea agreement, attorney Andy Savage said.
State murder charges against Slager -- as well as two other federal charges -- will be dismissed as part of the plea deal.
"We hope that Michael's acceptance of responsibility will help the Scott family as they continue to grieve their loss," Savage said. "As a sentencing date has not yet been determined, we will refrain from further comment at this time."
The shooting ... and the explanation
Slager was an officer for the North Charleston Police Department when he pulled Scott over for a broken tail light. A few moments later, Scott ran away.
A foot chase ensued, and a bystander's cell phone video captured Slager firing eight times -- striking Scott several times in the back.
Slager later said he feared for his life because Scott had grabbed his Taser. But the officer's account did little to calm the backlash over the killing.
The fallout
The North Charleston police chief fired Slager, saying he was "sickened" by what he saw. And a state prosecutor filed a murder charge against Slager.
But in December, a judge declared a mistrial in Slager's state murder trial after the jury failed to reach a verdict. At the time, prosecutor Scarlett A. Wilson vowed to retry Scott.
After the mistrial, Scott's family members said justice will eventually prevail.
"In my heart, I will find the peace to forgive Michael Slager," brother Anthony Scott said. "But at this present time, until my family can see justice, no, there's no forgiveness."
CNN's Eliott C. McLaughlin and AnneClaire Stapleton contributed to this report.