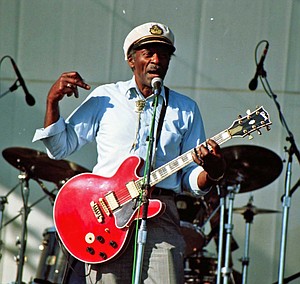 "Brown-Eyed Handsome Man" could be read as the story of a brown-SKINNED handsome man, as rock critic Dave Marsh and others have noted; the Louisiana country boy of "Johnny B. Goode" wasn't necessarily Caucasian.
Hard years
Or consider "Promised Land," the story of a man escaping the South for California. He rides a Greyhound bus across Dixie, moves to a train to get "across Mississippi clean," and finally enters the Golden State on a plane, dressed in a silk suit, "workin' on a T-bone steak." It was the American dream in miniature, a success all the sweeter for overcoming racial prejudice -- never overtly mentioned but present all the same.
There was also a darkness and suspicion in Berry, for those who cared to look. He was notorious for making concert promoters pay him in full before his shows, cash only. In his late teens he served three years in a reformatory, and after becoming famous did jail time on a charge of transporting an underage girl across state lines. Years later he was convicted of tax evasion. He had the showman's talent for saying much and revealing little.
"In my universe, Chuck is irreplaceable," Bob Dylan told Rolling Stone in 2009. "All that brilliance is still there, and he's still a force of nature. As long as Chuck Berry's around, everything's as it should be. This is a man who has been through it all. The world treated him so nasty. But in the end, it was the world that got beat."