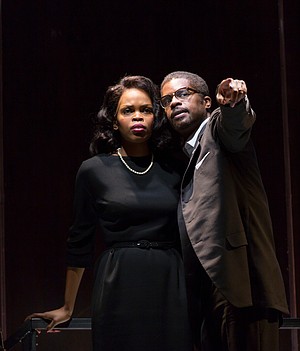 The assassinations of Rome's great ruler of the republic and of revolutionary leader Malcolm X take to the stage when Tony Award-winning The Acting Company couples Shakespeare's "Julius Caesar" with "X: Or, Betty Shabazz v. The Nation," a compelling new play by lauded playwright Marcus Gardley ("The House That Will Not Stand," "The Gospel of Lovingkindness," "Every Tongue Confess," "On the Levee"). These two gripping dramas make their off-Broadway debut at The New Victory Theater from March 17-26, 2017.
"X: Or, Betty Shabazz v. The Nation," written by 11-time AUDELCO nominee and PEN/Laura Pels Award-winner Gardley, is about the assassination of Malcolm X and the tumultuous landscape of ideology and activism of the 1960s. Drawing inspiration from Shakespeare's "Julius Caesar," Gardley explores the tense political climate that led to the death of the controversial and influential Black Nationalist leader—both the story we think we know and details seldom explored.
Directed by Ian Belknap, artistic director of The Acting Company, "X: Or, Betty Shabazz v. The Nation" takes place in a fictitious courtroom. With each witness called to the stand by Betty Shabazz (the prosecution) and Louis X (the defendant), audiences visit crucial moments leading up to the assassination of Malcolm X Feb. 21, 1965. Told through the poignant memories of key characters in Malcolm X's life, each testimony sheds new light on one of America's most complex and compelling
historical figures.
"Julius Caesar," directed by Devin Brain, associate artistic director of The Acting Company, portrays a rising political star torn down by his most trusted allies. Audiences witness the art of persuasion, the ugliness of backroom politics and the historical patterns we can't stop repeating. Tackling essential questions about the balance of ambition, personal loyalty and love of country, Shakespeare's timeless political masterpiece has never been more relevant.
"This repertory tells stories that I hope will charge audiences to look at the past with an eye to taking action in the present," said Belknap. Set in a rotunda in the style of a Roman Senate with limited audience seating onstage, both shows feature the same ensemble of actors and a set by Helen Hayes Award-winning designer Lee Savage ("The Lightning Thief," "Satchmo
at the Waldorf").
For "X: Or, Betty Shabazz v. The Nation," the cast features Jimonn Cole as Malcom X; Jonathan-David as Louis X; Chelsea Lee Williams as Betty Shabazz; William Sturdivant as Elijah Muhammad and Bootblack; and Joshua David Robinson as Brother Eugene X and Doc. Other cast members include Gabriel Lawrence as Muhammad the First; Kevis Hillocks as Wilbert X; N'Jameh Camara as the Judge; and ensemble members Austin Purnell and Tatiana Wechsler. The creative team includes Candice Donnelly (Costume Design), Mary Louise Geiger (Lighting Design), Justin Ellington (Sound Design/Music Composition), Byron Easley (Choreography), Elizabeth Smith (Voice, Speech and Text Consultant) and Orlando Pabotoy (Fight Direction).
For "Julius Caesar," the same ensemble is cast as follows: Gabriel Lawrence as Julius Caesar; William Sturdivant as Caius Cassius; Jimonn Cole as Marcus Brutus; Jonathan-David as Mark Antony; and Joshua David Robinson as Casca and Titinius. Other cast members include N'jameh Camara as Calpurnia; Chelsea Williams as Portia; Kevin Hillocks as Octavius; Austin Purnell as Soothsayer; and Tatiana Wechsler as Trebonius. The creative team includes Jennifer Moeller (Costume Design), Mary Louise Geiger (Lighting Design) and Nathan A. Roberts and Charles Coes (Music and Sound Design), Elizabeth Smith (Voice, Speech and Text Consultant) and Orlando