Disney unveils 'Pandora—The World of Avatar'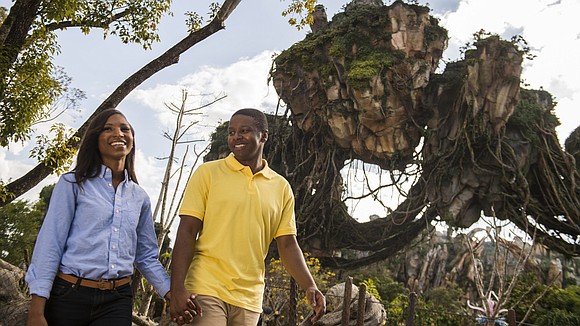 Going to Disney World in Orlando, Fla. is always a magical experience. Whether you are 2 or 28 or 88, there is something in the parks that will resonate for you. But there is something especially wonderful when you step into a Disney park and are taken away to a new land for the first time. It doesn't happen that often, but when it does, it is done with majesty, fanfare, spectacle and delight for all those who are a party to the magic.
The opening of "Pandora—The world of Avatar" is no different. The world, the largest addition to Disney's Animal Kingdom since its opening, is based upon the box-office hit "Avatar," by Oscar-winning director James Cameron.
Pandora welcomes guests to the land of floating mountains, bioluminescent rainforests, lush flora and fauna, cascading waterfalls, rivers and streams, with a message of conservation and preservation contained within all the intricate design and beauty.
But it would not be Disney without rides, and they do not disappoint. Central to "Avatar" are the winged friends of the Na'vi, the Itar, or as they are known to man, "the mountain banshee." On the thrill ride in Pandora, guests mount a mountain banshee for an exhilarating 3-D experience that takes you on an awe-inspiring, hair-raising, thrilling flight on the back of this majestic animal. Through trees, over and under mountains, over the sea, though the forest, the trip is gorgeous and will take your breath away.
Na'vi River Journey is a much more sedate experience and is truly family friendly. Guests travel down a sacred river deep into a bioluminescent rainforest. As they climb aboard reed boats, they float past the glowing plants and exotic creatures of Pandora. The ride concludes during a musical Na'vi ceremony with an encounter with a Na'vi Shaman of Songs, who is deeply connected with Pandora's life force and sends positive energy into the forest through her music.
Besides the attractions, just walking around Pandora is an experience in and of itself. Be it night or day, the area is alive with vibrant colors and sounds. Try the drums and hear the Na'vi respond to you. Go to the Satu'li Canteen for a great meal. (If you are a vegetarian, it is a fantastic choice.) The selection fits the tastes of varying pallets and is presented delightfully.
And as with every theme park, after most thrill rides, you exit though the gift shop. Well, here in Pandora it is no different, except for the fact that the Windtraders is not just a shop, it can be an experience. At Windtraders, you can adopt your own Banshee or have an avatar made of yourself. You can also buy Na'vi artifacts, science kits, clothing and more.
Pandora is a great addition to Disney's Animal Kingdom. It doesn't matter if you are an "Avatar" film fan—you may become one just by visiting. The world you enter is unlike anything else at Disney and it is Disney's great Imagineers who have brought this land, along with James Cameron's Lightstorm