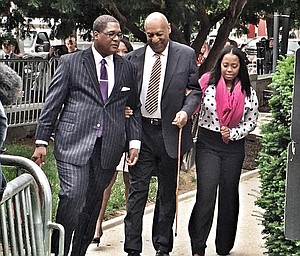 NORRISTOWN, Pennsylvania (CNN) -- The mother of one of Bill Cosby's accusers recalled Tuesday how her daughter called her crying in 1996 to tell her that the famed actor had drugged and assaulted her, then tried to have her fired from the agency that represented him.
Patrice Sewell took the stand to corroborate daughter Kelly Johnson's allegation that she called her mother after Cosby gave her an incapacitating pill and took advantage of her at his hotel in the Bel-Air neighborhood of Los Angeles. Sewell also recounted a call in which Johnson told her Cosby was pressuring Tom Illius, his now-deceased agent at William Morris talent agency, to terminate her.
"She called me at work. She was nearly hysterical. She was crying. She was telling me, 'Mommy something's going on. I don't know what's going on, but they're telling lies about me,' " Johnson said, according to Sewell. "Mr. Cosby is telling Tom to get rid of me."
Tuesday was Day Two of Cosby's trial on charges that he drugged and assaulted Andrea Constand at his home in 2004.
The 79-year-old comedian has pleaded not guilty to three charges of aggravated indecent assault in the case.
Gripping the elbow of his publicist, Andrew Wyatt, Cosby smiled at times as he walked into the Montgomery County Courthouse. His head slightly downward, he closed or squinted his eyes. As was the case Monday, his wife, Camille, did not arrive at the courthouse with him. It isn't clear if she will attend the proceedings.
Father's advice
Though Cosby has been publicly accused of assault by dozens of women, the charges deal solely with accusations from Constand. Johnson was allowed to testify as prosecutors seek to establish that the alleged assault was part of a pattern.
Johnson told jurors Monday that Cosby used his fame and influence to pressure her to take a pill that made her feel "underwater" and unable to resist his advances. Cosby then engaged in sexual activity with her when she could not consent or resist, she testified through tears.
On Tuesday, Sewell said Johnson's father, a retired Los Angeles police detective, instructed his daughter at the time not to call the police because he "didn't want her to be humiliated and feel shame and embarrassment, as he had seen others who went to the police at that time. He didn't want that to happen to her."
Jurors also heard from Joseph Miller, an attorney present at Johnson's deposition during her 1996 workers' compensation claim against William Morris.
Johnson told those present that Cosby gave her a pill that made her semi-unconscious and then asked her to fondle him, Miller testified.
"She didn't want to do that," Miller said. "That I do remember."
Reason for termination argued
The defense was scheduled to cross-examine Miller later Tuesday. However, the tack of the Cosby legal team was apparent in its questioning of Sewell, and in its Monday cross-examination of Johnson.
Johnson, defense lawyers said, was dismissed from the agency for other reasons, noting that the woman's complaints in her workers' compensation claim address verbal abuse from Illius, not sexual advances from Cosby. (Johnson has said she wanted to complain about Cosby but couldn't get the words out.)