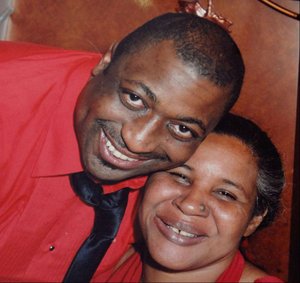 The audience was silent as the ceiling lights of the church dimmed and the video displayed on giant TV screens began to play. It was a Mic.com video titled "23 Ways You Could Be Killed If You Are Black in America" and featured a montage of several Black and white celebrities who solemnly recited the many ways a Black person could get killed in America as photos of several Black people who've been killed by law enforcement were displayed.
When the ceiling lights came back on after the video ended, Emerald Garner, one of Eric Garner's daughters, lead the audience in a chant. "This stops today!" she declared into her microphone. The audience repeated the chant several times with her.
The Garner family was part of a memorial for Eric Garner that was held at First Corinthians Baptist Church in Harlem Monday. The memorial included a panel discussion that was moderated by the church's senior pastor, the Rev. Michael A. Walrond Jr., and Etan Thomas, a former NBA player and community activist.
The wide-ranging topics included the interactions between Black people and the police, crime in the Black community, the family's feelings about the third anniversary of Garner's death and the community support they've received since his death in 2014.
Emerald Garner acted as spokesperson for the family and she criticized the NYPD at length.
"Every day, every week, every hour, I'm looking on social media and I'm seeing yet another person be killed by the NYPD," she said. "Yet another person being choked by the NYPD, beaten with sticks by the NYPD, chased and shot by the NYPD, and it's not really [one] police department, [it's] police departments all over the world. They just do not care!"
She added, "It's been three years since my father was killed on national television. Within those three years, there are countless bodies that have been piling up since 7/17 and this has to stop."
She also talked about the efforts of the Eric Garner Foundation. The organization focuses on helping young people get jobs and teaching them how to properly interact with the police. "We're going to help these young people get some jobs, and there's not going to be any more Tamir Rice," she said. "It's not going to be any more Mike Brown. It's not going to be any more Eric Garner. It's not going to be any more Alton Serling, no more Sean Bell—we don't want no more—no more Sandra Bland."
Eric Garner, 43, died during an altercation with NYPD officers in which he was put in a chokehold by officer Daniel Pantaleo. As Garner's head was then pressed against the sidewalk by Pantaleo, he repeatedly told the officers he couldn't breathe. Garner soon lost consciousness and was pronounced dead at a hospital.
The subsequent autopsy report, written by the city's medical examiner, pointed to Pantaleo's chokehold as one of the causes of Garner's death, along with Garner's own health problems.
In the aftermath of the incident, Pantaleo was reportedly relegated to a department desk job and has been there ever since. He can still be indicted by the Department of Justice because an investigation into the incident is ongoing.