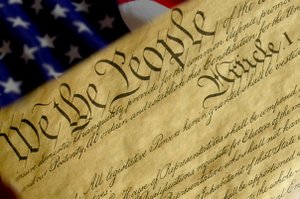 As President Donald Trump continues his first 100 days in office several Americans are declaring their independence from his policies and practices.
On Saturday, a group of over 400 people including activists, workers, authors, actors, professors, and attorneys across several states signed "Declaration 17." The document, modeled after the Declaration of Independence signed in 1776, represents resistance from Trump's vision of the nation the group believes is out of sync with U.S Constitution. Declaration 17 highlights items like Trump's recent immigration ban, his plans to build a wall on the Mexican border and his recent banning of media outlets at the White House.
Led by attorney and former director of the New York Civil Liberties Union Norman Siegel, the group hopes to not only publicly call Trump out on the constitutional violations he's already committed but also pass along the information to citizens. In just two days Declaration 17 has garnered over 400 signatures via an online petition and the public is being urged to sign.
"President Donald Trump's policies are inconsistent with the principles of our constitution and it's the right of the people to speak out in opposition," Siegel said in an interview with the AmNews.
In the coming weeks, Declaration 17 hopes to hold local public readings around the country to show the major differences between the U.S. Constitution and policies of President Trump's administration.
"We want to give hope to people to let them know that we have had dark days in the past and prevailed in the past," said Siegel. "If we come together we can prevail again. What Trump is doing presents a clear and present danger to the values of our Constitution and the people have to speak out. We can't minimize what's happening"
To learn more about Declaration 17 and to sign it go to www.declaration17.com.