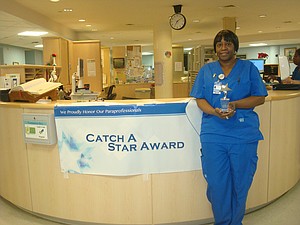 Calvary Hospital recently honored Stephanie Perkins-Veitch, CCT-II, with the "Catch A Star" Award for December 2016.
Honorees are expected to go above and beyond to make a difference and exemplify a "healing touch" presence with patients and family members. The hospital encourages patients, family members, visitors and employees to nominate members of the nursing staff (nurses, Calvary Care technicians and administrative staff) who demonstrate and exemplify Calvary Hospital's core values of caring, compassion, commitment, non-abandonment and Dignity through their work. Award recipients are chosen by their nurse administrators and nursing committee based on the nominations and performance.
Perkins-Veitch began working at Calvary in 1991 as a nurse's aide and as a Calvary Care technician instructor in 1993. Perkins-Veitch's nomination forms from colleagues and family members included the following comments: "Stephanie cared for my brother during the hours I could not be here for him. When I left him every night, I was assured that he would be safe with her care." "Many mornings when I arrive on the unit, Stephanie is in a patient's room giving them the loving care that we all would want our relatives to have. She has great insight into what our patients need and remains very helpful to her fellow co-workers." "Even though Ms. Perkins has recently suffered a great personal loss, she manages to come to work with a smile on her face to bring comfort to our patients and families." "Ms. Perkins is receiving the "Catch A Star" Award for all the hard work that she does. We are very fortunate to have her here at Calvary, she is truly a star."
Perkins-Veitch has always enjoyed helping people. Working at Calvary as a CCT allows her to share her passion for caring for people and making a difference in the lives of many. She knows that everything that she does for her patients and their families is magnified because of the circumstances. The ongoing appreciation that she gets from them is what keeps her going.
For more than a century, Calvary Hospital has been the nation's only fully accredited acute care specialty hospital devoted exclusively to providing palliative care to adult patients with advanced cancer and other life-limiting illnesses. More than 6,000 patients are cared for annually by Calvary's inpatient, home care and hospice services. Inpatient care is offered at our 200-bed facility in the Bronx and our 25-bed Brooklyn Satellite at Lutheran Medical Center. Calvary Hospice provides short-term inpatient care at The Dawn Greene Hospice, located at Mary Manning Walsh Home in Manhattan. To learn more, please go to www.calvaryhospital.org.