Originally published 12/26/2017 at 05:41a.m., updated 12/26/2015 at 12:00a.m.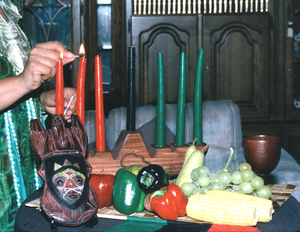 Wednesday, Dec. 26, marks the first day of Kwanzaa, a non-religious celebration of African-American culture. Kwanzaa lasts for seven days, ending on Jan. 1.
Kwanzaa, which means "first fruits of the harvest" in Swahili, was founded in 1966 by Dr. Maulana Karenga and focuses on family, community and culture. Though gifts are exchanged and a feast is enjoyed, Kwanzaa is not to be mistaken as a substitute for Christmas. Instead, it is an affirmation of seven guiding principles, based on the "Nguzo Saba" ("Seven Principles"). These principles pay tribute to our ancestors and culture while reaffirming community values.
The seven principles :
Umoja (oo-MO-jah): Unity
Kujichagulia (koo-gee-cha-goo-LEE-yah): Self-determination
Ujima (oo-GEE-mah): Collective work and responsibility
Ujamaa (oo-JAH-mah): Cooperative economics
Nia (NEE-yah): Purpose
Kuumba (koo-OOM-bah): Creativity
Imani (ee-MAH-nee): Faith
As with any holiday tradition, there are items used in the celebration. The most familiar symbol of Kwanzaa is the "Kinara," which is similar to, but not to be confused with, the Menorah used in the Jewish celebration of Hanukah. The Kinara holds seven candles while the Menorah holds nine. The seven candles of Kwanzaa are called "Mishumaa Saba," featuring three green on the right, three red on the left and one black in the center. Each candle represents one of the seven principles. On Dec. 26, the black center candle (Umoja) is lit. It is then used to light the others, one per day.
Other items used in the celebration:
Mkeka: Straw placemat or basket
Mazao: Fruits and vegetables
Vibunzi/Muhindi: Ears of corn, one for each child in the household
Kikombe Cha Umoja: Communal cup
Zawadi: Gifts
Ngoma: Drums
The Kwanzaa feast, called "Karamu," takes place on New Year's Eve and includes the "Kukaribisha" ("Welcoming"); "Kuumba" ("Remembering"); "Kuchunguza Tena Na Kutoa Ahadi Tena" ("Reassessment and Recommitment"); and "Kushangilla" ("Rejoicing"). Celebrations usually take place in churches or community centers. Decorations should be Afrocentric, using the red, black and green color scheme. The main area should be designated for the banquet where everyone can help themselves. This setting should include the Kinara, straw mat and ears of corn.
The Karamu celebrates our African heritage and should include an inspiring guest speaker, music and traditional dance. Affordable, educational or artistic gifts are exchanged and should, ideally, be handmade, using the principal of Kuumba.
A libation statement called "Tamshi la Tambiko" is recited, during which time water from the communal cup ("Kikomba Cha Umoja) is poured in the four directions, north, south, east and west, in memory of loved ones who have passed away. The cup is then passed among the group.
Kwanzaa libation statement, "Tamshi la tambiko"
For the Motherland, cradle of civilization.
For the ancestors and their indomitable spirit.
For the elders from whom we can learn much.
For our youth who represent the promise for tomorrow.
For our people, the original people.
For our struggle and in remembrance of those who have struggled on our behalf.
For Umoja, the principle of unity, which should guide us in all that we do.
For the creator who provides all things great and small.
The ceremony ends with the "Kutoa Majina" (calling the names of family ancestors and Black heroes) and the "Tamshi la Tutaonana" ("Farewell Statement").
Kwanzaa celebrates our heritage and inspires us to face the challenges of the New Year.
About Dr. Maulana Karenga
Dr. Maulana Karenga is one of the world's most highly respected senior scholars in Black and Africana studies and is a professor of Africana studies. He is also chair of the President's Task Force on Multicultural Education and Campus Diversity at California State University in Long Beach. He is best known as the creator of Kwanzaa and lectures frequently on its value and importance. Kwanzaa is celebrated throughout the world.