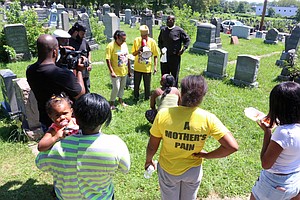 Commemorating their slain children, mothers gathered together in New Jersey.
Leander Williams, 17, was shot and killed in Jersey City, Aug. 9, 2016. To remember him and others, a car caravan with mothers of the victims will visit the sites where their children were killed.
Libations and prayers were performed at each site, followed by a visit to the Bayview Cemetery, where flowers were placed. The first stop was at 517 Communipaw Ave., Jersey City, where Leander was killed.
Just before the event Hessie Williams, the mother of Leander, said, "It is a very painful day for me and all the mothers whose children have been killed. We must do this for ourselves and others to try to stop the violence. Our children would want us to do this."
Williams is the founding president of Mothers' Pain, a group of mothers dedicated to providing assistance to mothers of murdered children, and to stopping the violence. They have organized marches, rallies and community meetings. They have issued a plea for a six-week truce (April 8, 2017-May 14, 2017) among gangs while visiting and talking to residents of the "hot spots," the places where the shootings occurred. They have met twice with Mayor Michael Fulop.
The Rev. Dr. Herbert Daughtry, the veteran civil rights leader who has provided counseling and organizing leadership, said, "I have been in the Civil Rights Movement for almost 60 years. I've worked with some of the most courageous and dedicated leaders the world has ever seen. Among them are the families of slain children, who, although are hurting, are helping others. I call them 'wounded healers.' They personify toughness, compassion, bravery and dedication."