Memories of Dick Gregory, satirist and activist
Ron Scott | 8/31/2017, 3:56 p.m.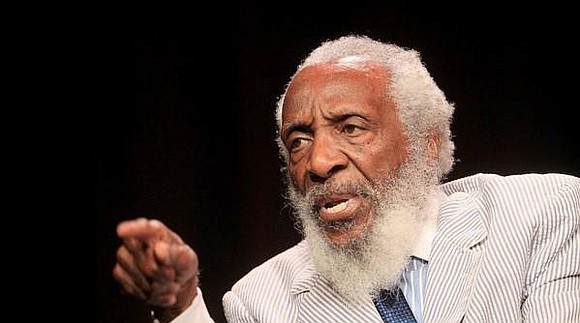 Hearing of Dick Gregory's death on Aug. 19 was a real shocker. While pondering the fact that he was a vegetarian and so aware of living healthy, it just seemed impossible he would leave us at the age of 84.
Gregory's life on this planet found him becoming a revolutionary satirist and a relentless civil rights activist. When it was time to stand up against the Vietnam War and racial injustice, he protested and boycotted with leaders of the Civil Rights Movement such as Dr. Martin Luther King Jr., the Rev. Ralph Abernathy, Medgar Evers, the Rev. Jesse Jackson and in the process became their cellmates in Southern jails on numerous occasions. "I went down South afraid and came back not afraid," said Gregory. "I was taken off the stage and put in the audience so I could see."
Gregory was our great motivational drum major of truth (he mocked racism and bigotry), he held that beacon of light up high so all could examine the realities of injustice. He was the anointed one to maintain the on-going 1960s struggle with sustained diligence, after King, Malcom X, Evers, Mohammad Ali and the many who joined picket lines, let their voices be heard and lost their lives. When he wasn't actively protesting on the streets, he took another form of action—hunger strikes.
Today's racial inequality remains a raging river, which is why, while in the hospital, Gregory noted, "I can't wait to get out of here. I have so much to say." Unfortunately, he didn't make it, but he left behind a wealth of material (books such as "No More Lies: The Myth and the Reality of American History" and "Nigger" and albums such as "In Living Black and White" and "Live at the Village Gate") for all to listen to and read, to continue the struggle.
We started listening to Gergory's albums in college. His jokes had that sharp edge that cut right to the heart of racism, but they were funny: "If it wasn't for the KKK burning crosses on our streets, we wouldn't never had street lights."
During the 1970s into the '80s, Gregory visited New York City on a somewhat regular basis, and I made it a point to see him. His in-depth topics included civil rights injustices and how it related to economic reform and anti-drug issues, sprinkled with a few insightful jokes. His new image became a full beard and mustache as opposed to the early short haircut and thin mustache.
Gregory was able to put healthy foods, racial injustice, America's drug problem and economics into a program that made sense. His understanding of America's problems is what made him such a razor sharp humorist and speaker. Even those in denial knew he was speaking the truth as it is today.
His discussions regarding the health food industry were very significant (early 1970s). He advocated for a raw fruit and vegetable diet and discussed the dangers of eating sugar. He made nutrition an issue for Black folks. He felt that everyone should drink at least eight glasses of water a day, noting that 95 percent of our bodies is water.