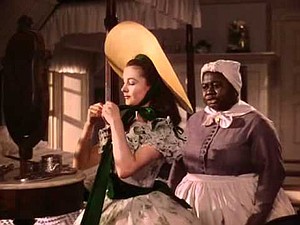 Times have changed in the South and in the world of film. Even in the wake of racism and fascism rearing their ugly heads since the induction of the president of the United States, there are some organizations and collectives that are taking a stand against racist imagery.
It has been reported that the historic movie theater, the Orpheum, in Memphis, Tenn. has removed the 1939 classic film, "Gone with the Wind," from its summer screenings. The film was screened Aug. 11 and was quickly stopped from being screened again in 2018 after it received numerous critical comments of its portrayal of people of color and its stance on the South during the Reconstruction period in the U.S.
Deadline Hollywood reported, "Patrons started to voice their concern about the film's portrayal of people of color and the Facebook post from the event struck a polarizing opinions from commenters. Some were in support of the movie as a learning tool to 'teach our children and grandchildren what is wrong with slavery,' but after careful consideration the Orpheum Board deemed the film as 'insensitive' to its local population, which is 64 percent Black."
This action can be considered one small and sobering triumph by a community that acknowledges its predominantly Black population.
The article continued, "'While title selections for the series are typically made in the spring of each year, the Orpheum has made this determination early in response to specific inquiries from patrons,' read a statement from The Orpheum Theatre Group. 'The Orpheum appreciates feedback on its programming from all members of the midsouth community. The recent screening of Gone with the Wind at the Orpheum on Friday, Aug. 11, 2017, generated numerous comments. The Orpheum carefully reviewed all of them.' They added, 'As an organization whose stated mission is to entertain, educate and enlighten the communities it serves, the Orpheum cannot show a film that is insensitive to a large segment of its
local population.'"
Hattie McDaniel, a Black actress who played a mammy character in the film, won an Academy Award for her performance. This award does not dismiss the notion that slavery and Black indentured servitude should not continue to be celebrated and tolerated in the South and in the United States at large, because it is time to say no to racism and the portrayal of Black inferiority.