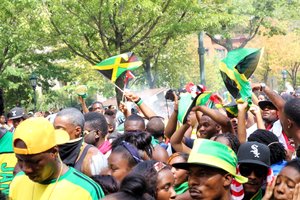 Mayor Bill de Blasio and Police Commissioner James O'Neill have decided that "Times Square on New Year's Eve" security measures are necessary for Monday's J'Ouvert celebration.
Last week, the mayor and the police commissioner announced that new plans for the popular festival that leads into the West Indian American Day Parade include a new start time. In past years, the day-break festival began at 4 a.m. The city officials announced that the J'Ouvert festivities would be moved to 6 a.m. According to City Hall, the decision was made collectively by permit holders and organizers.
"J'Ouvert is one of the most vibrant and passionate celebrations of culture in our great city, and it is incumbent upon all of us to make this year's festivities peaceful and enjoyable for everyone," said de Blasio in a statement.
O'Neill stated that these measures, along with partnerships with the local community, should make J'Ouvert "safer and more enjoyable."
These changes stem for J'Ouvert making headlines for its violence more than its celebrations. In 2016, Tiarah Poyau, 22, and Tyreke Borel, 17, were shot a block from each other along the parade route. In 2015, Carey Gabay—a former aide to New York State Gov. Andrew Cuomo and first deputy legal counsel at Empire State Development—was shot in head by a stray bullet during a shootout between rival gangs. In 2014, Michael Sampson, 55, was shot and killed during the festivities.
City officials and law enforcement plan to implement several ways to combat anything or anyone figuratively raining on the parade, including the use of so-called violence interrupters. According to the city, the interrupters will comprise former gang members who have turned their lives around, who will "pre-empt and resolve street disputes." Violence interrupters will be responsible for distributing public education materials, walking along the parade route and being present at J'Ouvert. They'll also stand on corners and circulate "hot spot" blocks, be on the lookout for violence and help de-escalate and mediate.
Violence interrupters are also known as the Cure Violence movement. During a news conference last week, de Blasio explained why they were being used to assist in overseeing J'Ouvert attendees.
"One of the reasons you've seen a substantial decrease in shootings, particular in this city, has been because of the Cure Violence movement," said de Blasio to reporters. "They're going to play a crucial role around the events of J'Ouvert. And look, the NYPD has approached this process through the prism of neighborhood policing, which we see month after month continues to make the city safer—high level of engagement with communities, a lot of communication, a lot of one-on-one work between police officers and members of communities. That is what has also led us to this plan, a lot of engagement between the NYPD and members of the community to determine what will make the most sense."
Acting Brooklyn District Attorney Eric Gonzalez stated that he hoped the de Blasio and Kelly security measures would go to "ensuring that all who attend J'Ouvert to celebrate their cultural heritage remain safe from the violence that has marred this celebration in years past."
Gonzalez added, "While I look forward to celebrating with all involved, I remain committed to prosecuting anyone who undermines public safety at this event by committing acts of violence."
A few hours after J'Ouvert, the annual parade down Eastern Parkway begins, hosted by the West Indian American Day Carnival Association.
At least a million people party down the Brooklyn thoroughfare, including worldwide visitors and just about every New York City politician looking to be elected in November.