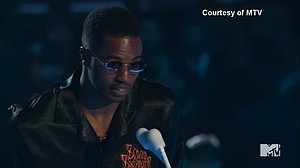 (CNN) -- Sunday's MTV Video Music Awards were about performances and powerful words.
Kendrick Lamar kicked off the show with a mini-medley of his songs. The fiery set included a man totally engulfed in flames. Lamar went into the evening with eight nominations, followed by Katy Perry and The Weeknd tied with five nominations each.
Perry, who also served as the night's host, started with a video sketch about space travel that featured astronauts Buzz Aldrin and Peggy Whitson. The singer joked about the state of the world.
"Even in the apocalypse we deserve the best soundtrack," she said, then introduced Paris Jackson, daughter of the late Michael Jackson, to present the award for best pop video.
Jackson made a statement before announcing the winner.
"Let's leave here tonight remembering that we must show these Nazi, white supremacist jerks in Charlottesville and all over the country that as a nation with 'liberty' as our slogan, we have zero tolerance for their violence, their hatred and their discrimination," she said. "We must resist."
The best pop video award went to Fifth Harmony for "Down."
Jackson's remarks were just part of the political tone of the night.
Rev. Robert Wright Lee IV, a 24-year-old pastor and a descendent Confederate general Robert E. Lee, appeared to speak out against racial injustice.
"We have made my ancestor an idol of white supremacy, racism and hate," Lee said. "As a pastor it is my moral duty to speak out against racism, America's original sin."
He called on "all of us with privilege and power to answer God's call to confront racism and white supremacy head-on."
Lee then introduced Susan Bro, mother of Heather Heyer, who was killed in Charlottesville while marching as a counter-protestor against a white supremacist rally seeking to stop the removal of the statue of General Robert E. Lee.
Bro spoke of missing her daughter and announced the launch of a foundation named in honor of Heyer.
"I want people to know Heather never marched alone," Bro said. "She was always joined by people from every race and every background in this country."
In that spirit, Bro said, MTV decided to honor all six of the videos nominated for the new category of best fight against the system.
Perhaps the most anticipated moment of the show arrived with the premiere of Taylor Swift's music video for her new single "Look What You Made Me Do."
The video was a much darker look for Swift, who appeared in it as different versions of herself, including as a zombie with snakes.
Swift isn't the only one to have undergone a transformation.
The iconic "Moonman" trophy handed out Sunday is now a "Moon Person."
"Why should it be a man?" MTV president Chris McCarthy told the New York Times. "It could be a man, it could be a woman, it could be transgender, it could be nonconformist."
That type of sentiment was shared by Pink, who accepted the Michael Jackson Video Vanguard Award.
The singer performed a mix of some of her biggest hits, along with her new single "What About Us."