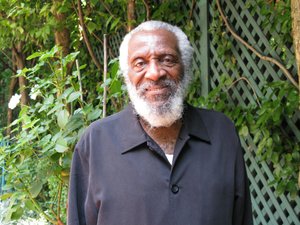 Dick Gregory possessed a comedic gift that when combined with his political insight cut like a laser to the heart of the Black experience in America. In one skit, and sometimes in one line, he could encapsulate the absurdity of race relations in the nation, often offering a biting, sardonic African-American response. We will miss his genius, his tart tongue and his way of telling white America about the essence of Black humanity. Gregory, 84, joined the ancestors of apparent heart failure Saturday in Washington, D.C.
In a chapter of his first book, "Nigger," an autobiography he did with Robert Lipsyte in 1964, Gregory recounts a performance at the Playboy Club in Chicago in 1961, which propelled his remarkable career. Hired to fill in for the comedian Professor Irwin Corey, he stood before an audience of white Southerners and after greeting them said he knew the South very well. "I spent 20 years there one night," he cracked.
He told them about an incident in a Southern restaurant when a white waitress informed him, "We don't serve colored people here." Gregory's classic retort was "That's all right. I don't eat colored people. Bring me a whole fried chicken."
It was from routines such as this, his nimble intellectuality and later his total immersion in the Civil Rights Movement—with a cigarette in hand—that Gregory commanded the popularity that made him a household name in the early '60s and for the remainder of his eventful life.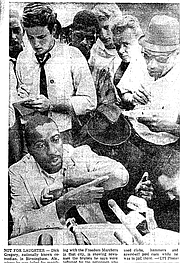 Those event-filled days began for Gregory on Oct. 12, 1932 in St. Louis, Mo., where he was born the son of Lucille and Presley Gregory. The early years of his life are graphically told in his autobiography, including the unrelenting poverty that was compounded by a neglectful and often abusive father. Once, during a classroom pledge of donations from the students' fathers, he tried to convince his classmates that his father had contributed more than the father of another student, Helene Tucker, who he admired. He was admonished by the teacher in front of the other students after claiming is father had donated $15. "We know you don't have a Daddy," the teacher said.
He said that was a shameful moment and for days he refused to return to class. Eventually he did, working his way from the "idiot's chair" and being defined as a "troublemaker." But it would take years to push that embarrassing moment in the classroom from his life. "When I played the drums in high school it was for Helene; and when I broke track records in college, it was for Helene; and when I started standing behind microphones and heard applause, I wished Helene could hear it, too. It wasn't until I was 29 years old and married and making money that I finally got her out of my system. Helene was sitting in that classroom when I learned to be ashamed of myself."
At Sumner High School, Gregory excelled on the track and earned a scholarship in the sport to Southern Illinois University. He set records as a half-miler and miler, along with his activities in his fraternity, Alpha Phi Alpha. In 1954, he was drafted into the Army, where, at the urging of his company commander, he entered and won a number of talent shows.